Important note for Halloween 2023 – Due to the time that passed since this great show was aired, it is becoming more and more difficult to keep the list of vendors that have those costumes updated. If you reach a "product currently unavailable", your best chance is to search on Amazon or HalloweenCustomes.
The Tyrion Lannister costume is one of the hardest Game of thrones costumes you can choose from. The reason for that is simple. No matter which one of the following Tyrion outfits below you choose from, no matter if you put on the Tyrion wig, get the hand of the king/queen pin or even if you go the extra mile and put on the scars he has on his face. None of it matter if you are a tall/large person. It will all go unnoticed. However, if you follow this guide, you can have a great Tyrion Lannister Halloween costume for short people or even as a Game of Thrones kids costume. 
Tyrion Lannister outfits were never outstanding or impressive. In general, the clothes of the women of Westeros were much more spectacular. That is why they have many more costume options than the Game of Thrones men costumes. 
This Tyrion Lannister costume looks similar to the outfit he wore early in the show, before he "switched sides" and joined Lord Varys to support Daenerys Targaryen as the queen. The outfits is composed of a long black leather coat that makes the resemblance of an armor and a red/burgundy vest with laces in the front. The set does not include pants but it doesn't really matter as you can put any kind of pants with it. Although this is recommended only for people who are short in height, the costume manufacturer actually make this in a variety of sizes from XXS to XXXL.  
The second Tyrion costume in this guide is the one he wore later in the show. More specifically around the time he was made The Hand of the Queen. The outfit is entirely black and has black pants, black stripes shirt, black faux leather vest and black belt. Together with The Hand of the Queen pin and the wig, it can make a great Tyrion Lannister Halloween costume. The manufacturer of this costume advertise it has about twenty different sizes for kids and boys making it one of the few Game of Thrones costumes for kids available.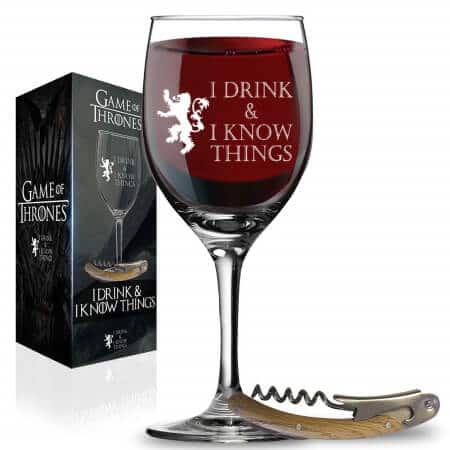 Unlike like his changes in hair color or clothes, if there was something that remained constant throughout the eight seasons is that he always liked to drink a lot. In fact, his saying "I Drink and I Know Things" is one of the best Game of Thrones quotes. To complete the Tyrion costume, use this wine glass or one of the Game of Thrones goblets.