Game of Thrones 2020 Calendars
Well it's almost 2020 and chances are, you don't use or need a wall calendar. What was once very useful, is now obsolete. Your special events are probably marked on your online calendar or mobile device. However, wall calendars are still popular for their artistic side. Sure, you can buy a Game of Thrones poster to decorate your wall. But Game of Thrones calendars are even better because, they have a different image of your favorite show every month! There are over a dozen different Game of Thrones calendars in this review. There are images from the show, real life locations, drawing, quotes, actors' photos and more…
Game of Thrones Calendar 2019-2020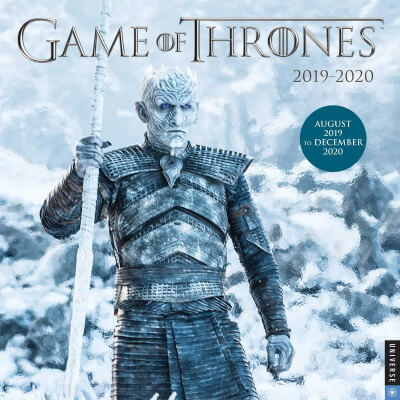 In a land where summer can last years, the winter is coming and it is going to be a really long winter. The longest winter Westeros as ever seen.
For such winter, a 12-months calendar is not enough. Is 17 months enough? 
Not sure. But why not get the brand new Game of Thrones wall calendar for 2019-2020. 
This Calendar starts in August 2019 and ends in December 2020. Each month comes with its own new cool photo of a different hero or scene. And this time, Tormund gets his place!
2020 Day to Day GoT Quotes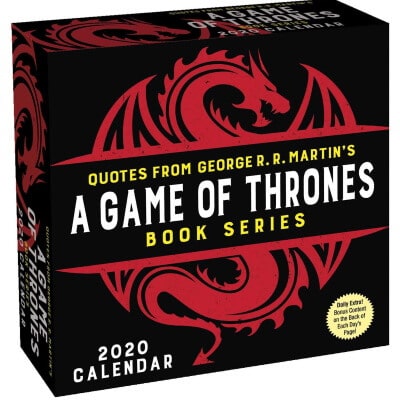 The 2020 version of day-to-day Game of Thrones calendar. Each page in this deck is for another day of the year. Each card has another quote from Game of Thrones (the books, not the show). Previous years for this product were rated with 5 stars reviews! Highly recommended for Game of Thrones fans.
Size: 5.5 x 5.5 inches
Day-to-Day 2020 Images Calendar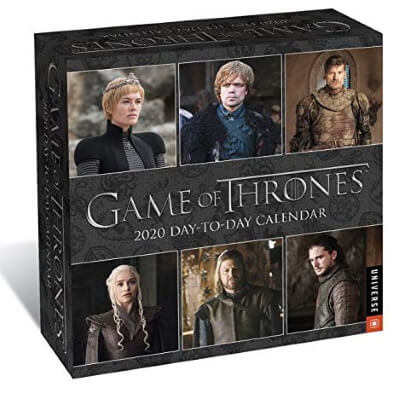 This special day-to-day calendar has a deck of over 300 full-color photos. Each color is a different image of an actor or a scene from the first 7 seasons of Game of Thrones. 
Size: 5.4 x 5.4 inches 
A Song of Ice and Fire 2020 Calendar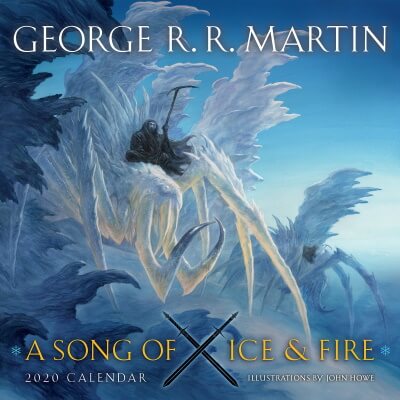 It is not 2020 yet but we already know who will illustrate the calendar for 2020. The prestigious work was assigned to the famous John Howe. Mr. Howe is widely known for his J. R. R. Tolkien worlds illustrations. So it is only fitting he will create some of G. R. R. (M.)
The Song of Ice and Fire 2020 calendar will focus on the mystical creatures of Westeros. We can clearly see where this is going by this calendar cover, a giant ice spider.
The calendar is available now.
Size: 12 x 12 inches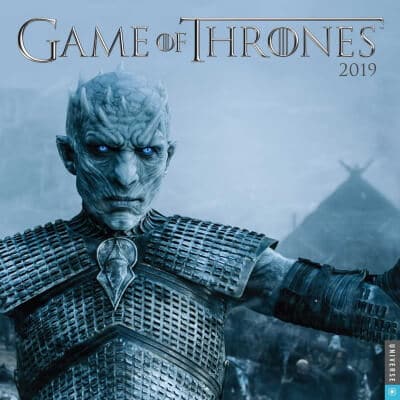 The official HBO Game of Thrones calendar for 2019. Includes a special picture of different character from different scenes in the show for each month. 
Size: 12 x 12 inches
GoT Executive 2020 Calendar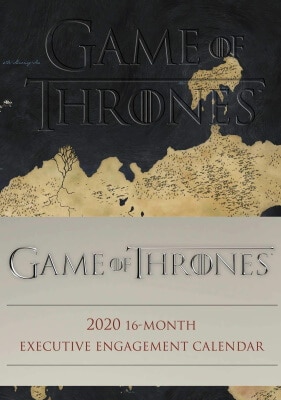 This is a Game of Thrones 2020 16-Month Executive Engagement Calendar. Let's face it, if the Mad King had his plans organized, everything would have been different for the House Targaryen.
Size: 5.2 x 7.4 inches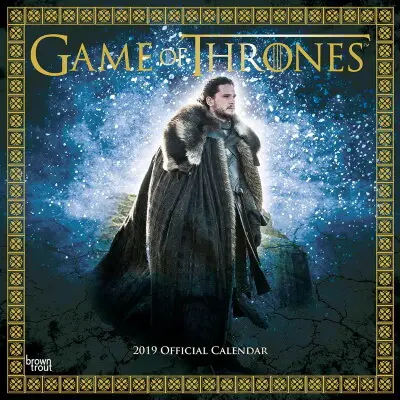 16 months version of Game of Thrones wall calendar for 2019. Includes different images compare to the previous 2 calendars in this list.
Size: 12 x 12 inches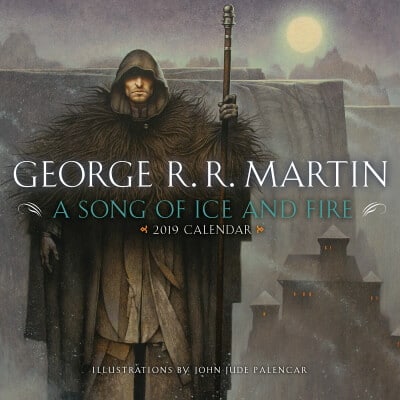 Unlike most of other GoT calendars in this list, this 2019 A Song of Ice and Fire calendar doesn't have images from the HBO show. Instead, it includes illustrations made by master illustrator John Jude Palencar.
Size: 12 x 12 inches

This is a slim calendar with images from Game of Thrones. Each page has one image above a list of days of that month. Makes it easier for you to write down notes next to each day.
Size: 5.9 x 16.6 inches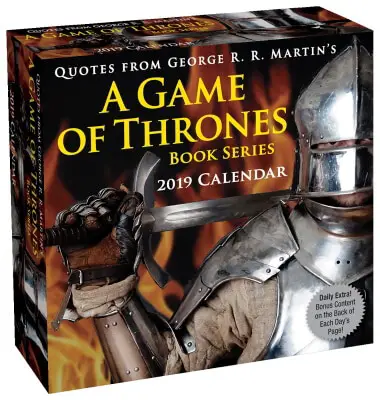 This is no ordinary calendar. Each page in this deck is for another day of the year. Each card has another quote from the A Song of Ice and Fire. Previous years for this product were rated with 5 stars reviews! Highly recommended for Game of Thrones fans.
Size: 5.4 x 5.4 inches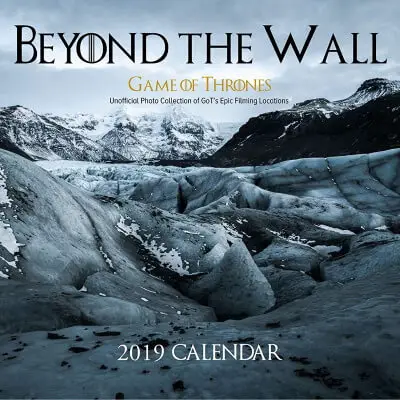 As a fan of the Game of Thrones TV show, you were probably captivated by the settings of the scenes. This 12-pages calendar features a different real life filming location on each page. Whether it is Kings Landing, North of the wall or other. Those photos are so amazing, you will want to drop everything and visit to those Game of Thrones filming location sites.
Size: 11 x 8.5 inches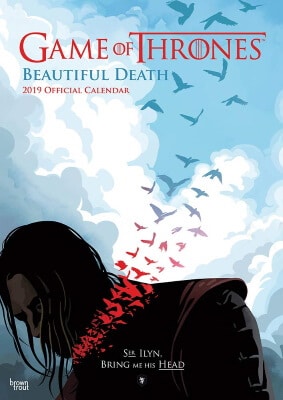 For those who are unfamiliar with it yet, Beautiful Death is the illustrator Robert Ball interpretation of the most iconic deaths in Game of Thrones.  Each poster in the collection contains several layers lethal significance. This official Beautiful Death 2019 calendar includes 12 posters from the collection.
Size: 12.4 x 17.3 inches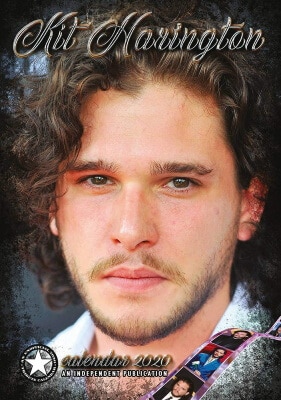 A calendar containing 12 pages of photos of Kit Harington, Jon Snow, our King of the North. Voted in one of our Game of Thrones polls as the most handsome man in Westeros.
Size: 17 x 12 inches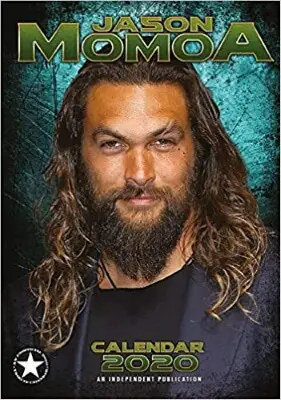 A calendar containing 12 pages of photos of Jason Momoa, the Khal Drogo. Although he didn't survived the first season (like many others characters) he is very much remembered.
Size: 17 x 12 inches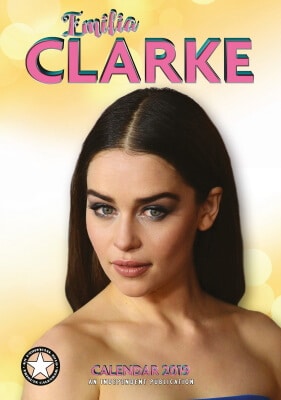 A calendar containing 12 pages of photos of Emilia Clark, Daenerys Targaryen, our Khaleesi. Voted in one of our Game of Thrones polls as the most beautiful woman in Westeros.
Size: 17 x 12 inches