For the fans of Game of Thrones, there are endless reasons to love the show. Some were more drawn the complex character's development and to the intrigues between the noble houses. Others might have been looking more for the action and battles. However, subtle or unsubtle as it might have been during the entire 73 Game of Thrones episodes, the artistic design was always a large part of it. By artistic design one might think it is mainly the Game of Thrones costumes but it is much more than that. It can be something big like the armor and shields the different units wore on the show. But it can also mean something small like the way their hair was braided. However, in this page we would like to show how artist design impacted the way the Game of Thrones weapons were adapted from the books to the TV show.
Since the start of the show we are getting familiar with the term Valyrian Steel and the unique features of the swords made from that steel. Keeping its mystery we are only getting a small piece of information each time and there isn't a real thorough explanation. However, we know enough to understand major part of it. The Valyrian steel swords have features different than other swords:
The sword is very sharp and will always remain sharp without needing to sharpen it.
A Valyrian steel sword will be lighter than a normal steel sword of the same size.
The blade will have a very distinctive rippled pattern. Similar to a Damascus steel.
There were only handful of Valyrian steel swords left and most of them serve as heirlooms in the various noble Houses of Westeros.
There is a secret to forging Valyrian steel and it was supposedly lost in the Doom of Valyria. However, Tywin Lannister was able to find someone who knew how to do it.
The last piece of information was only reveled closer to the end of the show. Swords that were made from Valyrian steel can kill White Walkers. 
Who Has a Valyrian Steel Sword?
Since the Doom of Valyria there were only a few Valyrian Steel swords left. Until the discovery that they are one of the few things that can kill a white walker, those swords were mostly a symbol of status of the noble houses and the characters. Here is a list of the Game of Thrones characters that have a Valyrian steel sword:
Ice – Eddard Stark 
Oathkeeper – Brienne of Tarth
Widow's Wail – Joffrey Baratheon then Jaime Lannister
Longclaw – Jeor Mormont then Jon Snow
Catspaw Dagger – Assassin then Arya Stark
Heartsbane – House Tarly then Jorah Mormont
Longclaw is by far the most famous sword of Game of Thrones and as such, has the largest number of memorabilia items. The sword belonged to House Mormont and according to Jeor Mormont, "The Mormonts have carried it for five centuries". The sword was meant to be Jorah's after his father, Jeor, retired from his lordship and took the black. However, Jorah dishonored his family when he was caught trying to sell some slaves. In a small act of grace, he left the sword behind and fled Westeros. The sword then returned to Jeor and he gave it to Jon Snow as a gift for saving him from the wight attack. Before he gave it to Jon, Jeor replaced the pommel from a bear (Mormont sigil) to a direwolf (Stark sigil). 
Stainless Steel Longclaw Replica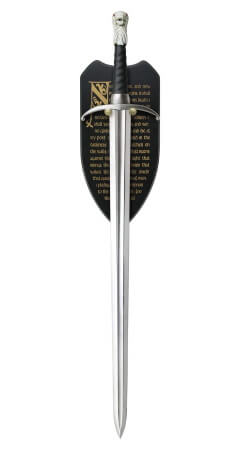 This is a high quality stainless steel replica of Jon Snow's Longclaw built with high attention to details. The blade is 33 inches long and the total sword's length is 45 inches. The hilt is made from genuine leather and the pommel is made from metal shaped direwolf. This sword includes a silkscreen wood plaque with the Night's Watch oath for display and a certificate of authenticity. This sword is not a toy and cost accordingly.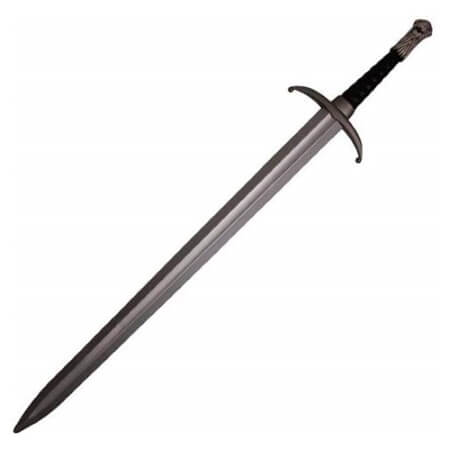 The best Longclaw foam replica available. If you are looking to wear a Jon Snow costume that is probably your best option. Its length is similar to the steel version with a blade  length of 35 inches and a total of 45 inches. It is made from foam with a rigid core and comes with in collector box. Despite being made from foam it has pretty good quality and nice details of the direwolf hilt.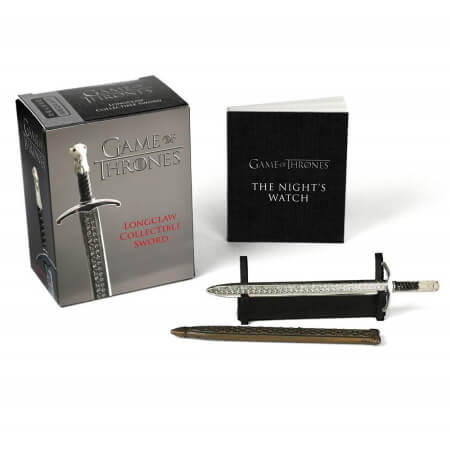 This is one of the unique items that are not made to be a replica or a costume prop. It is very, VERY small with a length of only 4 inches. However, don't be fooled by its tiny size. This is a great, highly reviewed, detailed package. Starting with the small 48-page book about the Night's Watch, including color photography and illustrations. Moving to the sword, as mentioned before, only 4 inches but very detailed and comes with a stand and sheath. Even the blade itself has decorations to resemble Valyrian steel.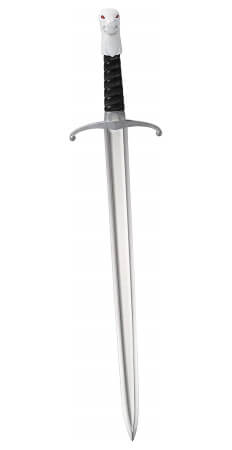 Another very small sword but unlike the previous one, this one actually has more purpose than just a display. This is a nine inches "long" Longclaw letter opener. The handle is made from diecast metal and the blade is stainless steel. It's an officially authorized HBO product with tons of high reviews. If you ever need a letter opener, this is the right one for you.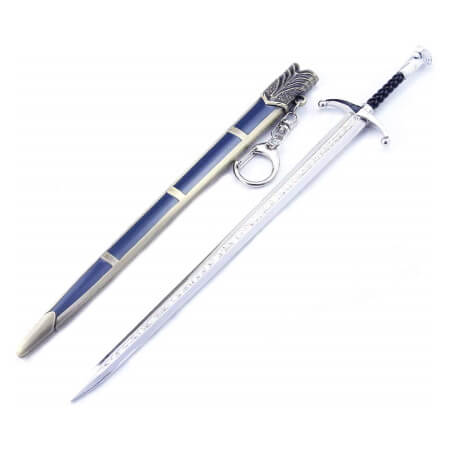 The list of mini swords continue with this key-chain sword. The total length of the key chain is less than nine inches and it has two parts, the sword and the sheath. Despite its very small size the creators did a pretty good just of reflecting the actual features of Longclaw in this key chain. Very appropriate as a gift for any Game of Thrones fan. 
Ice was the biggest of the Valyrian steel swords and it belonged to Eddard Stark. In fact the sword was quite intimidating even compare to "regular" steel sword's size.  Its actual length was never mentioned on the show but based on the famous picture of Ned Stark holding this sword, it seemed to be almost 5 foot long. After Ned Stark's execution, Tywin Lannister found one of the few blacksmiths left that can forge Valyrian steel and upon Tywin's request, the blacksmith created from Ice two long swords, Oathkeeper and Widow's Wail.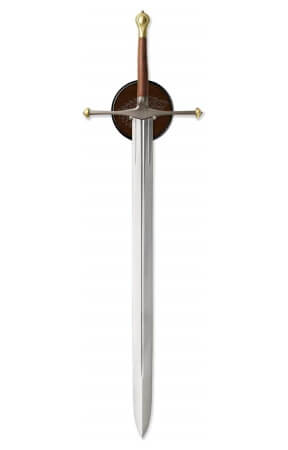 This enormous sword is a collectible replica for Eddard "Ned" Stark sword, Ice. It has a 41.5 inches blade and an unbelievable total length of 57 inches. The blade is made from 1060 high carbon steel and the hilt is made of cherry wood with antique brass parts. Comes with a hanging plaque with a direwolf sigil. 
The original owner of the Oathkeeper was Jaime Lannister. The sword was given to him by his father Tywin but he decided to give it as a gift to Brienne of Tarth. Although the sword was originally Jaime's, he did not name her and Brienne was the one that gave the sword the name Oathkeeper. The name reflect the oath Brienne gave Catelyn Stark and Brienne's desire to keep the oath. Giving a Valyrian sword as a gift wasn't a small thing and meant to symbolize the deep connection between Jaime and Brienne.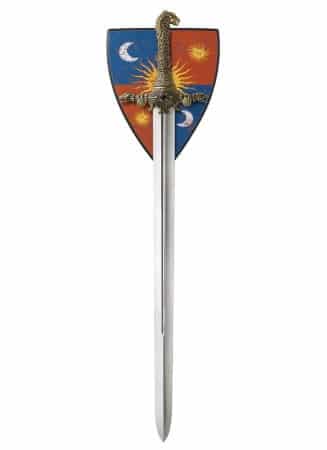 The Oathkeeper is the second most popular Game of Thrones sword (after Longclaw). It has a blade made of stainless steel and its intricate hilt is crafted from bronze plated cast metal. This replica sword includes a faux jewel decorates the center of the guard on either side of the hilt. It comes with a wall hanging shield plaque showing the sigil of House Tarth.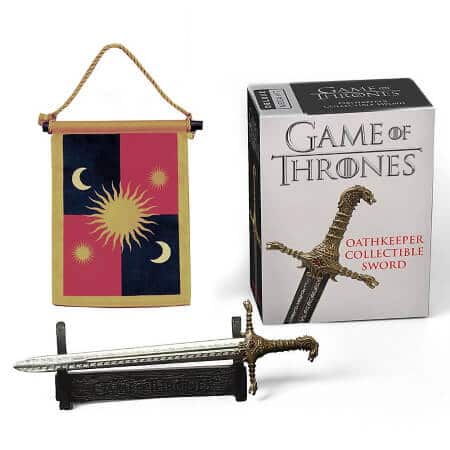 If the previous small sword was less than nine inches long, this one should be called tiny. With only four and a half inches long it is quite amazing how they managed to captured all those small features of the Oathkeeper sword. This is a display only item and the package comes with a stand and a double sided banner featuring the Tarth and Lannister sigils.
Probably the only reason that Widow's Wail isn't as popular as the other Valyrian steel swords is because of its original owner. Same as the Oathkeeper, this sword was created from Ned Stark's giant sword, Ice. It was given by Tywin Lannister to his grandson, Joffrey Baratheon for his wedding with Margaery Tyrell. Joffrey is very excited as he gets the sword and Grand Maester Pycelle cautions him that "nothing cuts like Valyrian steel". King Joffrey then turns to the crowd asking for suggestions for a name for the sword. Someone yells out "Widow's Wail". Obviously, Joffrey, being the sadistic bastard he is responds with "Widow's Wail, I like it". 
After Joffrey's death, is uncle/father Jaime Lannister took ownership over the sword given that no one is using it. 
The Catspaw dagger is actually an unnamed Valyrian steel dagger. It was used in the first season by a catspaw assassin (thus got its name) in an attempt to kill Bran Stark. This dagger played a major rule throughout the show. It was important for the assassin to use this very unique dagger in order to implicate the involvement of the Lanniters in the assassination attempt which started the conflict between the Starks and the Lannisters. It was later used to execute Littlefinger and of course, kill the Night King and end the war against the dead.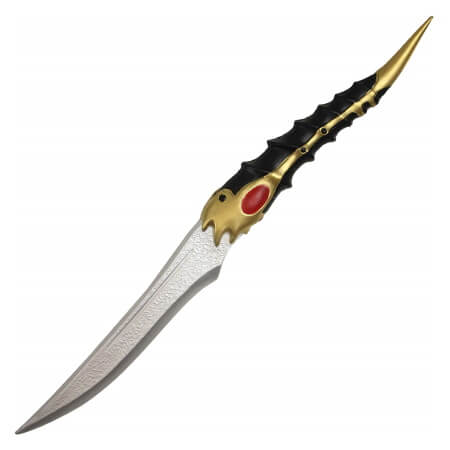 As many other steel swords replicas the dagger also gets its foam version. It is 19 inches long, made from foam molded over a rigid plastic core. The manufacturer of this dagger even went the extra mile to mold the and paint the blade to look like a Valyrian steel. That is, as much as possible from a plastic blade. This dagger would be perfect to anyone who is looking to wear an Arya Halloween costume. 
Jaime's Steel Replica Sword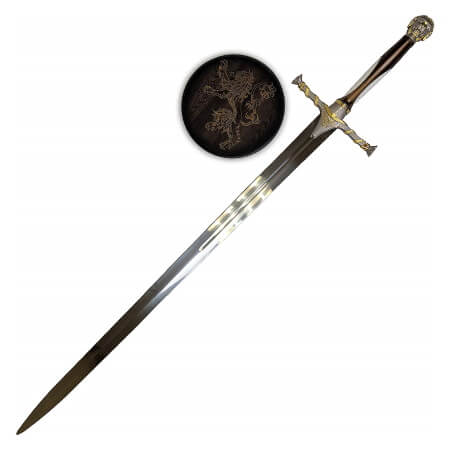 In the beginning of the show, Jaime's sword is a simple steel sword. However, indicating his sword as simple doesn't do justice with it. The sword is very long – over 50 inches. It is decorated in a way that easily show its owner as a wealthy, strong warrior and at the same time contain fine decoration in the hilt with the Lannister lion sigil.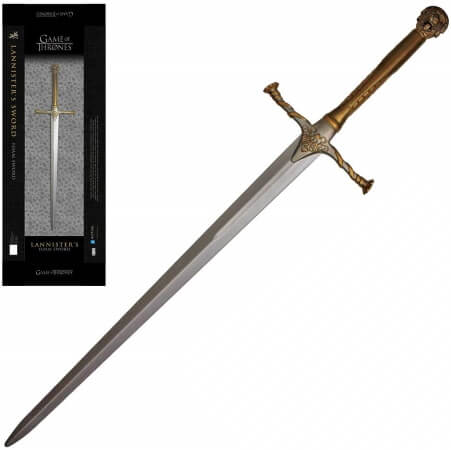 Although it is not possible to compare the fine decoration elements of this sword with the actual steel one, you definitely get your money worth with this one. It is made from durable patented polyurethane foam construction over a sturdy fiberglass inner core.
It is great for costumes, parties, LARP and Role-Playing games.
Officially licensed HBO Game of Thrones collectible.
Needle is the only sword that ever came with some sort of instructions manual. This goes back to the second episode of the first season of Game of Thrones. Jon Snow is preparing for his trip north to join the Night's Watch. As he prepares to leave, he gives his little sister Arya the small sword he had the blacksmith make specially for her. He looks closely into Arya's eyes and says the immortal Game of Throne quote: "First lesson, stick them with the pointy end". Arya then names her sword Needle.
When Arya reunites with Jon Snow in season eight, he sees she still have her Needle and asks her if she used it. To which Arya responds with "Once or twice".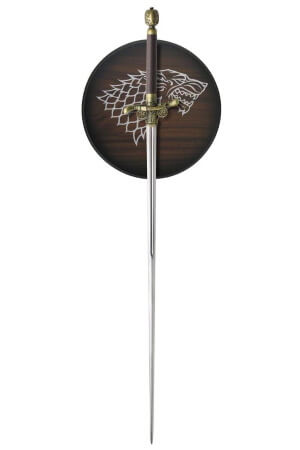 After all those long swords it is the time for the most famous small sword. The overall length of Needle is shorter than most other sword's blade with only 30.5 inches. It has leather hilt with antique brass handle parts. The sword includes silkscreen wood with Direwolf sigil plaque for display purposes.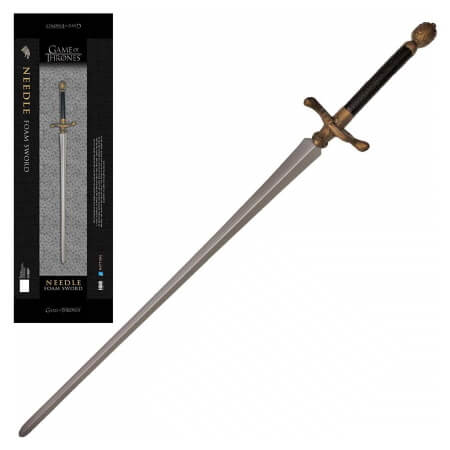 This is a high quality Needle replica. Unlike the previous one, this one is made out of hard foam with plastic core. It is one of the more affordable sword replicas and will do a great work to complete any Arya Stark costume.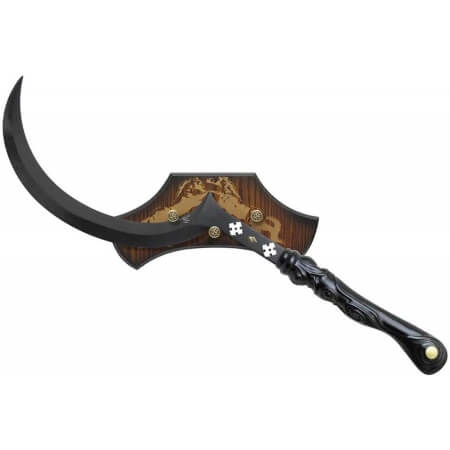 Arakh is the name of the sword used by the Dothraki. Unlike the regular sword that has a straight blade, this weapon as a curved blade. While not clear if it is better or not in combat, its look is still very intimidating. This specific Arakh is made out of steel and created to look like Khal Drogo Arakh.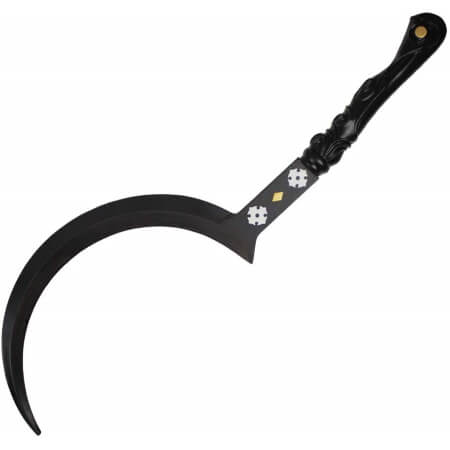 Those who are looking to wear a Khal Drogo costume will benefit more from this foam Arakh comparing to the previous one. While the design of both weapons is very similar, this one is made out of foam and more suitable to walk around with.