Melisandre Costume & Necklace
Important note for Halloween 2023 – Due to the time that passed since this great show was aired, it is becoming more and more difficult to keep the list of vendors that have those costumes updated. If you reach a "product currently unavailable", your best chance is to search on Amazon or HalloweenCustomes.
One of the easiest Game of Thrones costumes you can choose is the Melisandre costume. The reason it is so simple is because Melisandre from Game of Thrones has three distinctive, easy to get features that make her costume. Unlike other female characters that wore many different outfits, for example, Daenerys Targaryn has about a dozen costumes. Melisandre is identified by her red dress, her red hair and her famous Melisandre necklace or choker.
Dressing like Melisandre for Halloween is very fitting as one of her red dresses has a lot of fabric that can keep you warm while you are walking outside in a cold night for trick or treating. This Melisandre costume guide includes two options for red dresses, two options for red hair wig and a Melisandre necklace. As we saw on few occasions, The Red Woman didn't wear much more than that…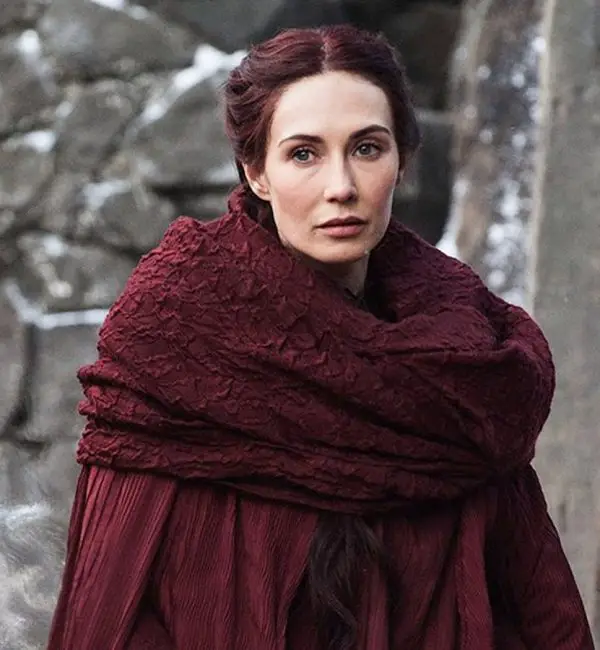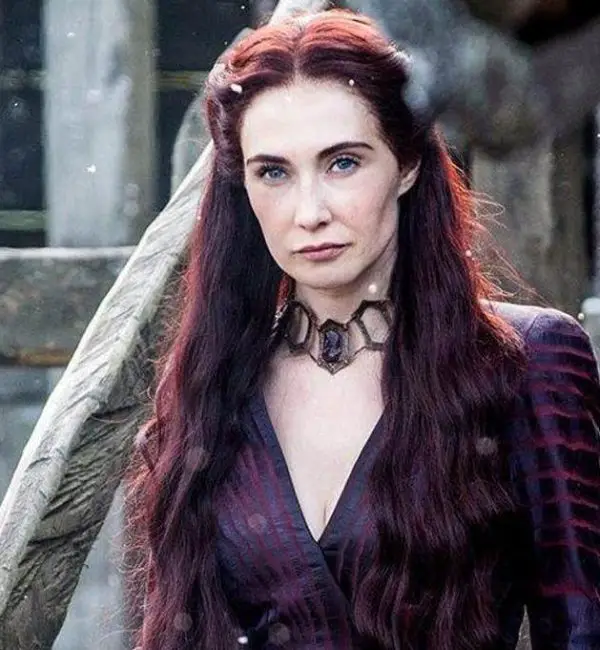 Who is Melisandre - The Red Woman?
Melisandre, or The Red Woman (or the Red Witch) as she was often called, appeared quite a lot throughout the show. She first appeared in the Game of Thrones episode called "The North Remember", which was the first episode of the second season. In this episode, she was in the beginning of gaining her power. She was at Stannis' side as he was fighting for his throne. Her last appearance was in season 8 episode 3, "The Long Night". Between her first and last appearance she took part in 29 episodes. In those 29 episodes she did a lot of things we didn't appreciate too much like, buying Gendry, talking down on Davos, trying to seduce Jon Snow and more. But undoubtedly, her worst moment was sacrificing princess Shireen. Even with all the deaths in Game of Thrones, that was one of the extreme moments of the show. Melisandre is also responsible to one of the famous quotes in Game of Thrones, "the night is dark and full of terrors".
The beautiful and seductive Melisandre is played by the even more real-life beautiful actress Carice van Houten. Carice is a Dutch actress and singer who played in many famous movies and TV shows but perhaps mostly know as The Red Woman, Melisandre from Asshai. She was nominated for more than two dozens awards and won more than half of them. She also has one Emmy Award nomination for her role in Game of Thrones. Another trivia detail about Carice is that she is in a relationship with the actor Guy Pearce since 2015 and they have a child together.
Although she appeared in more than two dozen episodes, Melisandre basically had two outfits, both very deep red. The first, is a heavy, robe-like dress with heavy fabric on her shoulder and hands. The second dress is more sexy with a cleavage, wide sleeves and tighter around the body. The combination of any one of those outfits with a long fiery red hair is a guarantied Melisandre look.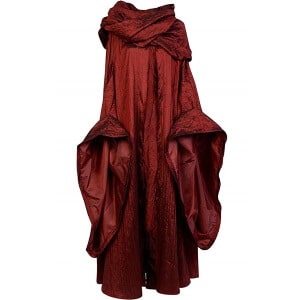 This is a great looking Melisandre dress. It looks very similar to what The Red Witch wore in the beginning of the show. The costume is made from Taffeta and include on top of the dress, the scarf and cloak.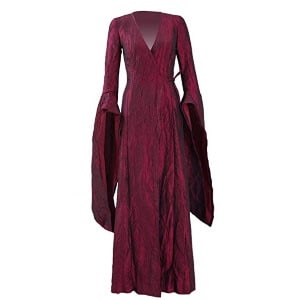 This is an alternative dress for the Melisandre outfit. It was designed to carry the sexy look of The Red Woman dress similar to when she seduced Jon and Gendry.
After her long red dress, the second noticeable feature of the Red Witch look is her fiery long red hair. Women (or man) looking for Melisandre Halloween costume but don't have the red hair should not be discouraged. Even the Carice, the actoress that plays Melisandre, doesn't have such hair and had to use a wig much like the famous Daenerys wig. Both options below for Melisandre wig are great to complete any one of the outfit options.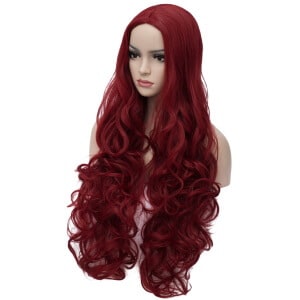 In order to complete your Melisandre Halloween Costume you most definitely need to have the Melisandre hair. That hair must be long and deep red. While there is no official Melisandre wig, this one will do just fine.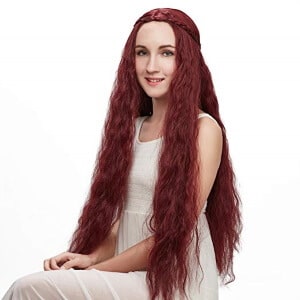 Another option to complete your look with a red hair is this Melisandre wig. A little different than the previous one but great altogether and got some positive reviews.
As said before, getting the Melisandre costume for Halloween or any other occasion is fairly simple and requires just 3 parts. Red dress, red hair, and this Melisandre necklace, which sometimes is called the "Melisandre Choker". The first two, the Melisandre dress and wig are mandatory. This necklace, that gave Melisandre her young beautiful look, while only optional, is VERY recommended. Every time Melisandre wore that necklace, she appeared as a young beautiful woman. When she took it off, we were able to see her true form, a very very old woman.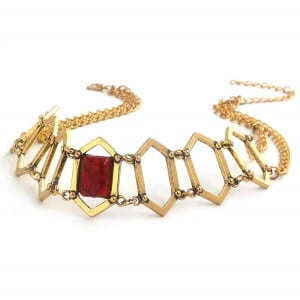 This is a high quality and very highly recommended Melisandre necklace. It can fit 13" neck and includes an extension to fit up to 15". The high quality of the choker isn't reflected on its price which will make it the least expensive item in this affordable costume. Probably the only down side of this necklace is its lack of magical youth power.
Melisandre is around 400 years old. Don't let the sensual look deceive you, while Melisandre wore her choker, she looked like very young, beautiful woman, but when she took it off her true form was reveled. We first saw her taking off her necklace in season 6 in a scene which very uneasy to watch. After the battle against the Night King and his army of the dead was won, she went outside Winterfell walls, took her necklace off for the last time and collapsed into the ground.