What is a Game of Thrones Tankard? A simple, regular tankard is a form of drinkware, just like a cup. Tankards have one handle with a large, roughly cylindrical form. Tankards usually made out of silver or pewter, but they can be made out of other materials, like glass, wood, ceramic, etc. So what is the difference between tankards and mugs? Tankards are usually used for drinking alcohol beverages, like beer. Mugs are usually used for drinking hot beverages. A Game of Thrones tankard is a type of Game of Thrones merchandise that has some kind of GoT symbols or saying on it.
The Game of Thrones tankards in this page are decorative on the outside but also contain an inside steel cup. Therefore, they can be used as a collectibles, casual drinking, having people over for a Game of Thrones party and more.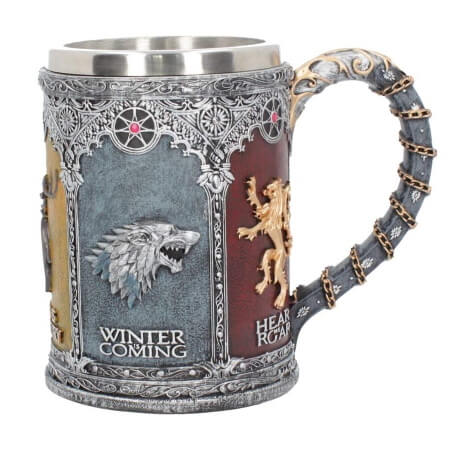 This first Game of Thrones tankard is one of the most decorative ones. Its high level of details is what made it the best selling GoT tankard in the list. The outside of the tankard is made out of hand painted, high quality resin. The decorations are in the shape 5 of the noble houses sigils and mottoes. Houses Targaryen, Stark, Baratheon, Lannister and Greyjoy.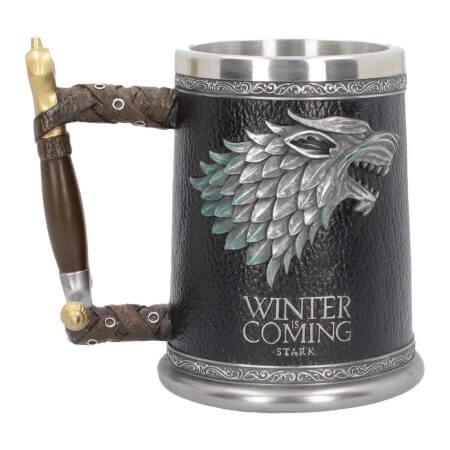 The second of the "Winter is Coming" tankards is as said, more simple. However, simpler doesn't mean less attractive or short of details. This one is made of a combination of resin and leather. One side has a large direwolf with the Stark motto, Winter is Coming. The other side has another direwolf. The tankard's handle is shaped like the northern sword's handle.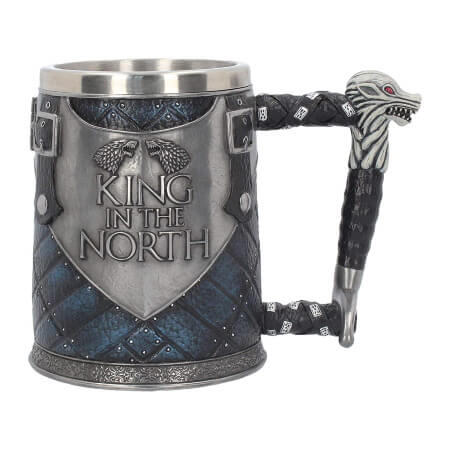 This Game of Throne tankard is also dedicated to the north. While this one doesn't say Winter is Coming, it does say King in the North. This could be meant for Rob Stark. However, the outside of this tankard is shaped in the neck armor in Jon Snow outfit. In addition, you cannot make a mistake in that, the handle is shaped like Snow's sword, Longclaw.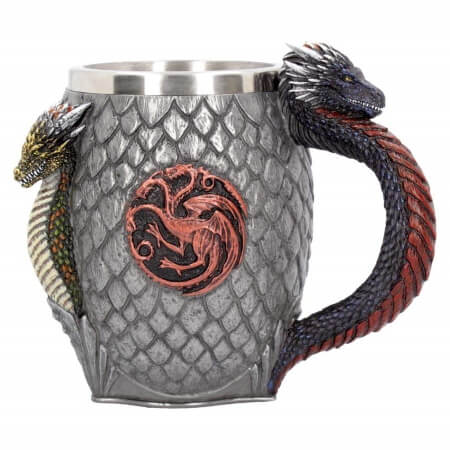 "Fire and Blood". That's the Targaryen house motto. Together with their 3 headed dragon sigil, this family has a long history in Westeros. This Targaryen's tankark shows all that. The entire outside of the tankard has a look of dragon scale. Two dragons decorates the sides and another dragon is shaped into a handle.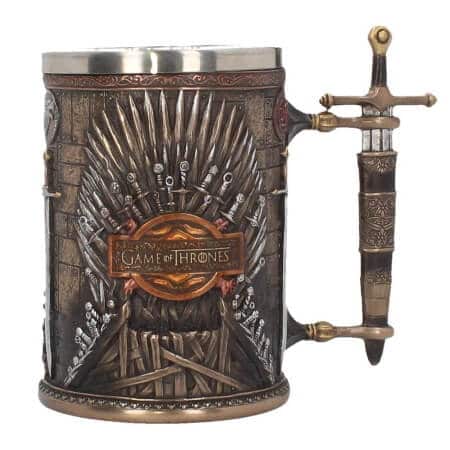 No Game of Thrones tankards list will be completed without an Iron Throne tankard. The Iron Throne, a thousand swords melted into a chair by dragon's fire. Or at least, that is what the legend say. This tankard has some other features in addition to the Iron Throne, like noble houses sigils of Targaryen, Stark and Lannister,  and a sword for a handle.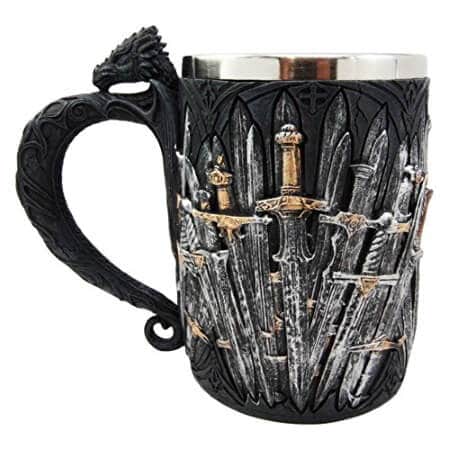 This tankard is not an officially licensed Game of Thrones tankard like the previous ones in this page. It doesn't contain any of the noble houses sigils, mottoes or something like that. It does contain shapes of multi-color swords and a dragon shaped handle. It is clear that Game of Thrones was at least an inspiration for this cup.