Game of Thrones Christmas Ornaments
It's the holiday's season and everyone know, Christmas is coming. If you are looking for interesting take on the Christmas Ornaments check out those Game of Thrones Christmas ornaments items we choose for you below. Plastic, glass, resin and more. Sigils, heroes or items. There is a lot to choose from. And whether you are hosting or a guest, make sure you wear a nice Game of Thrones ugly Christmas sweater.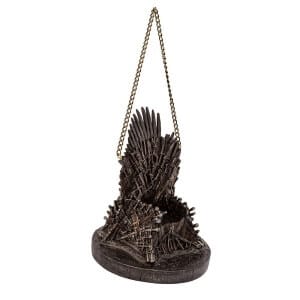 A beautiful 4 inches throne made out of resin. Highly detailed designed like the one in Game of Thrones with a chain.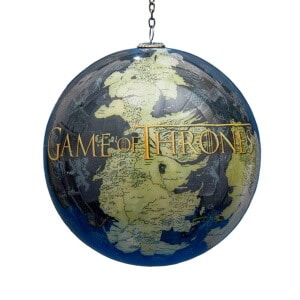 Great looking globe ornament with Westeros map. Size is 3.4 inches and comes with a chain for hanging.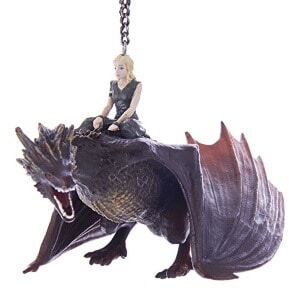 Daenerys Targaryen the mother of dragons sits atop a roaring purple and black dragon. Give your tree that dragony look it needs.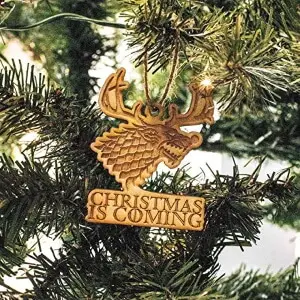 Christmas is Coming wood ornament. A prefect addition to your tree in the winter in coming spirit.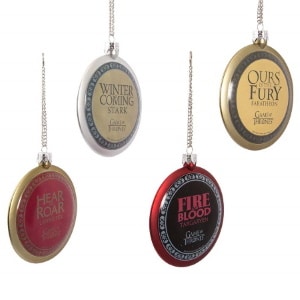 4 disc ornaments each shows the house sigil and motto for houses: Stark, Lannister, Targaryen and Baratheon.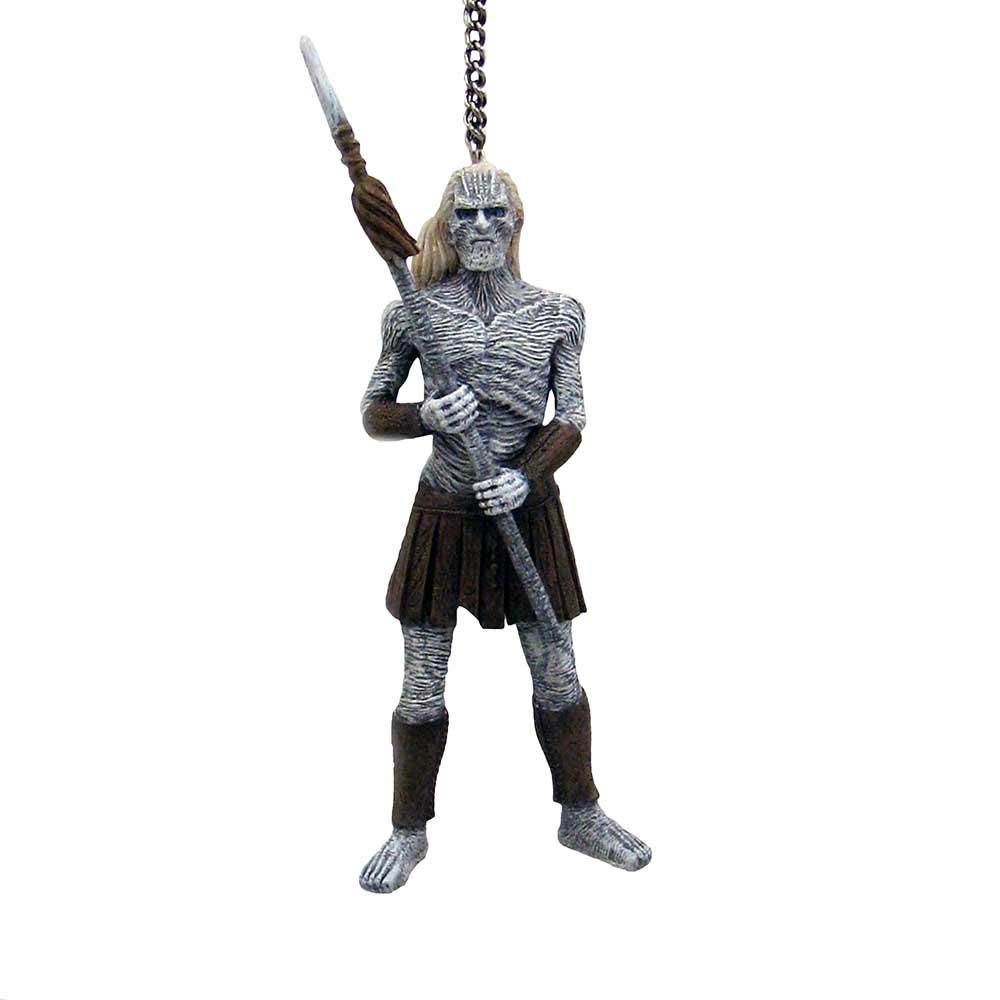 Highly detailed white walker with a spear. 4.25 inches high. Made from resin. Perfect for those who like Christmas and GoT.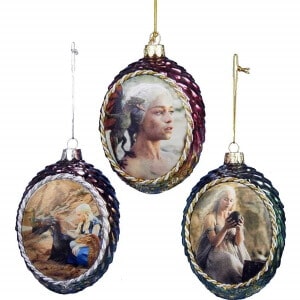 A set of three glass dragon eggs ornaments. Each dragon egg has a different picture of Daenerys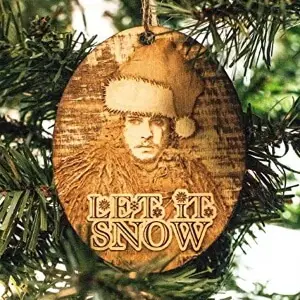 What is more snowy than Jon Snow? Jon Snow wearing a Santa hat. Decorate your tree with an extra touch this year.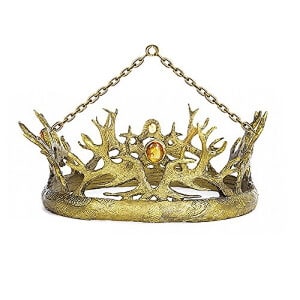 Make your tree the ruler of the seven kingdoms of Westeros with this Joffrey Baratheon Crown Ornament.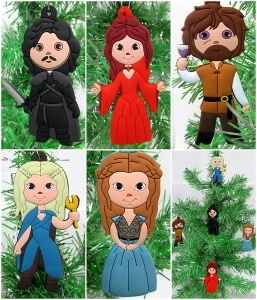 A set of five characters from Game of Thrones to decorate your tree with style and colors. Jon, Daenerys, Tyrion and others.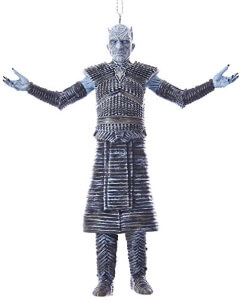 A night king ornament for your tree. A lot of details were entered into this less than 5 inches ornament.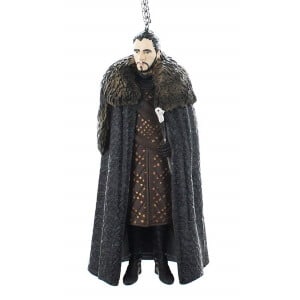 The king of the north, the bastard, Jon Snow. Whatever happens in the last season of Game of Thrones, he will be look great hanging on your Christmas tree.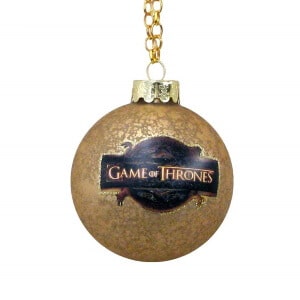 Game of Thrones glass ball ornament for your Christmas tree. Made from glass and 80mm round.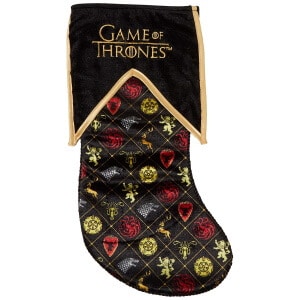 19 inches stocking printed with Game of Thrones houses sigils. A perfect gift for any Game of Thrones fan.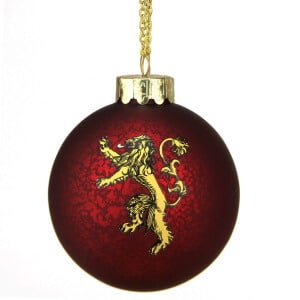 A red glass Christmas ornament to decorate your tree. Has the house of Lannister imprinted on it.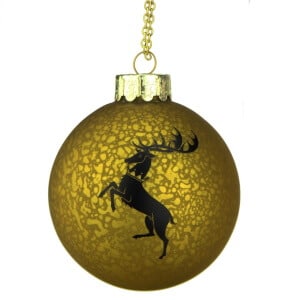 3.5 inches gold and black glass Christmas ornament with the house Baratheon Sigil.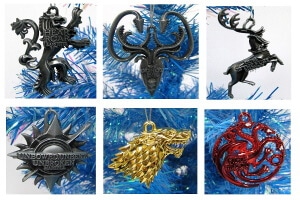 High quality set of 6 Game of Thrones sigil Christmas ornaments including direwolf, three-headed dragon, lion and more.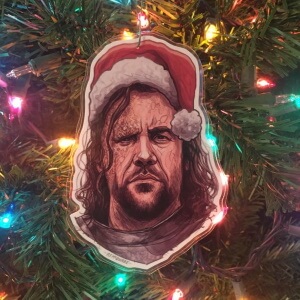 Add some class and color to your Christmas tree this year with this colorful and unique GoT character - The Hound.