We started writing this around October when we were looking for the best Game of Thrones Halloween costume. We thought it was going to be an easy task. But as the show progressed, more and more interesting characters were added. And on top of that, the existing main characters got more detailed outfits. As of Halloween 2019 we are covering costumes for over 20 characters, over 50 different outfits and close to 100 different accessories like wigs, jewelry, weapons and more. Whichever is your favorite character, you will find everything you need in order to become him/her.
According to Google, the search for Game of Thrones costumes is increased around September and peak in 20-28 of October. Obviously, most people are looking for a Game of Thrones costume for Halloween but there are also a lot of searches for parties, Comic-Con and more. In average people are looking for their favorite character's outfit around 100,000 times a month! That is a lot.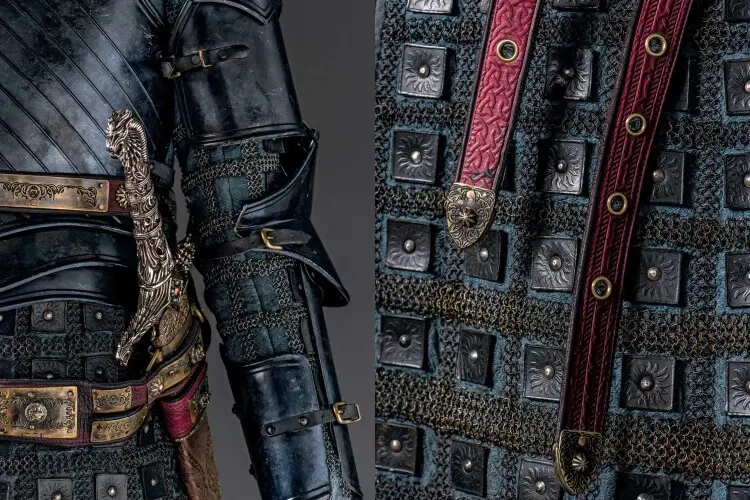 In case you were wondering why and how the outfits on the show looks so great, you should check out the "Game of Thrones: The Costume" book. This book was written by Michele Clapton and Gina Mclntyre. Michele won the 2019 Golden Emmy Award for best costume design for her work on the Game of Thrones outfits. This book has 440 pages(!) that uncover the secrets behind the process of making the outfits design for this great show. A great and unusual gift for every fan. 
Most Popular Game of Thrones Women's Costumes
What surprises most people – and surprised us as well –  is that there are more searches of Game of Thrones women's costumes than there are for men's. On the other hand, what is not surprising is that there are much more women outfits options than there are for men. Daenerys alone has close to a dozen different high detailed outfits. Here are the most popular Game of Thrones women costumes with the number of monthly searches for each:
Daenerys Targaryen – 20k
Arya Stark – 3k
Sansa Stark – 3k
Cersei Lannister – 2k
Melisandre – 2k
Missandei – 1.5k
Ygritte – 1k
Margaery Tyrell – 1k
Brienne of Tarth – 800
Olenna Tyrell – 200 
Most Popular Game of Thrones Men's Costumes
Most of the costumes for men are simple and less decorated than those of women. Even Jon Snow, the most important character in the show wore most of the seasons his black night's watch costume. Still, there are some remarkable outfits that will fit any fan of the show. Here are the most popular Game of Thrones men's costumes with the number of monthly searches for each:
Jon Snow – 10k
Khal Drogo – 5k
White Walker – 4k
Night King – 3k
Jaime Lannister – 2k
Tyrion Lannister – 1k
Tormund Giantsbane – 700
Hodor – 400
Littlefinger – 400
Oberyn Martell – 300 
Game of Thrones Couples Costumes
Dressing up with a couple Game of Thrones costumes has the best impact of both outfits. Combining two outfits together as practically endless possibilities. However, there are still some few couples, let's call them power couples, that make an impact above the other. Here are some examples for Game of Thrones power couple costumes. 
If you are looking to go as two male characters:
Night King and Jon Snow
Night King and White Walker
Jon Snow and Tormund Giantsbane
Jaime and Tyrion Lannister 
In case you are interested in women couple characters:
Daenerys Targaryen and Missandei 
Sansa and Arya Stark
Cersei Lannister and Margaery Tyrell
Arya Stark and Brienne of Tarth 
While the above are undoubtedly great, probably the best combination will be achieved by a woman and man couple, like:
Daenerys Targaryen and Jon Snow
Jon Snow and Ygritte
Khal Drogo and Daenerys Targaryen
Tormund Giantsbane and Brienne of Tarth
Cersei and Jaime Lannister (yuck) 
Daenerys Targaryen with dragons
Missandei and Grey Worm
Masks, Accessories and More