Arya Stark, the younger of the Stark daughters, started the first season as a lovable tomboy girl and evolved dramatically over the course of 8 seasons. When the show starts, we see her refuses to play along with what is expected from a girl. She was always running her mouth and getting into arguments with her father, mother, brothers and maybe especially, her sister, Sansa. With the help of Syrio Forel, she escaped the Lannisters' men in the first season and created her famous list. We see as she grows stronger, faces struggles, joins The House of Black and White then leaves it to go home. At the end, she even kills the Night King with her Valyrian steel knife, Catspaw and starts an online discussion whether she is Azor Ahai or not.
She went through a lot in those eight seasons. Her character grew and changed and so did her outfits. Looking for an Arya Stark costume ideas, you probably first need to decide which Arya you want to be. Putting together an Arya Stark Halloween costume is not an easy task as most of the pieces of her outfits are not something you can easily find. Luckily, there is quite a large selection of pre-made Arya costume sets you can choose from. 
For those who are wearing Game of Thrones couple costumes, there are a lot of interesting options there as well. While one can wear Arya's costume, the other can be her sister, Sansa's costume, The Hound Helmet, Melisandre costume or if you are looking for a good laugh, imagine the two of you going hand in hand with Arya and Cersei costume.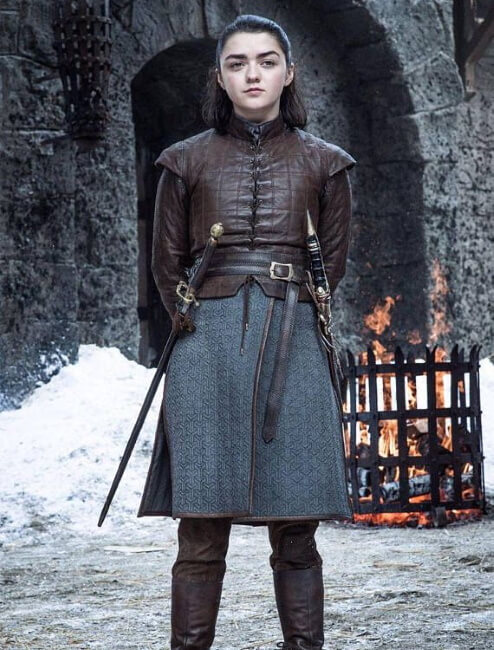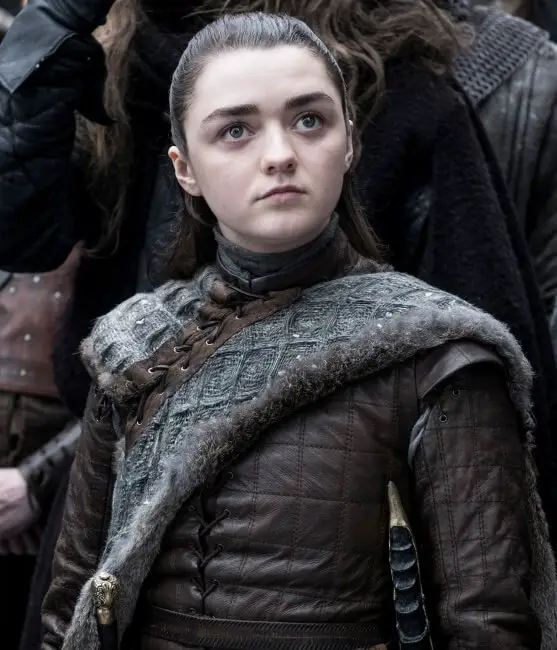 Arya Stark Season 7 & 8 Costume
Starting from season 7, Arya's outfit began to be more complex and detailed. In fact, in both season 7 when she got back to Winterfell and in season 8, she wore two different outfits that looked similar in structure but were different in color. One of them was dark brown leather jacket with grey skirt/kilt. The other one was darker, with black leather jacket.
If you choose one of those sets, it might be easier for you to choose one of the sets below and just add the needed accessories like the "Needle", "Catspaw", etc. There are still some options to build the outfit yourself.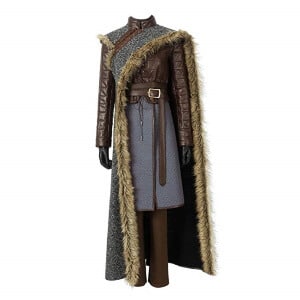 This is a complete set for Arya Stark costume of season 7 and 8. While not cheap, it includes almost everything you need to become No One. Includes: Cloak, Coat, Pants, skirt, Belt, Scarf (not sure why) and Gloves. You will need to add boots and weapon for the complete look. And of course, the wig if you don't have a long black hair.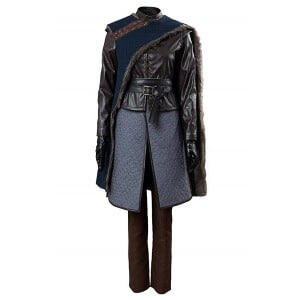 This is another alternative to the Arya Halloween costume. It does not exactly match the colors of her outfit in the show but the attention to details in this set is very high and that is why it is a valid and actually pretty good option. It include: Vest, Pants, Cloak, Gloves, Belt, Kilt.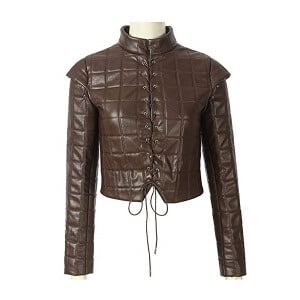 If you prefer not to buy the complete set but rather put together a few pieces, you will probably need to buy this lace-up shirt. The design of this shirt is very unique so most likely it is not something you have at home.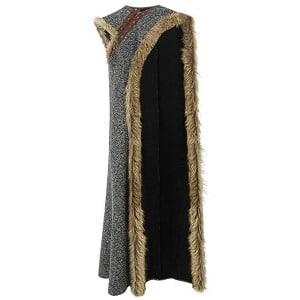 This is another piece for an Arya Stark costume. It is very impressive and while not mandatory, it can elevate the rest of the item you put together to prepare this outfit.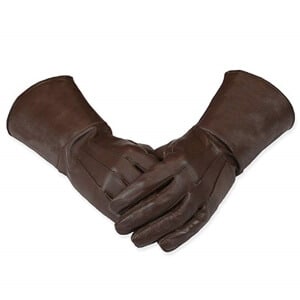 Those brown leather gauntlet gloves will work great to complete the look of the young Stark. Especially if you are planning to build the clothes by yourself in pieces. They might not be as lady like but so is she.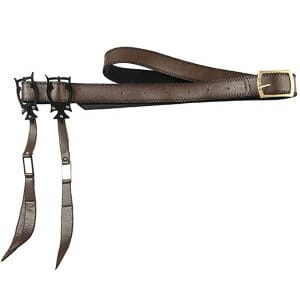 A simple dark brown belt. Very similar to what we see her wearing in the later seasons (seven and eight).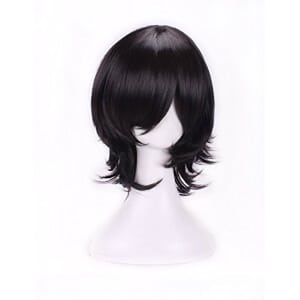 This black hair wig has a medium length. That length will allow you to pull the top section of the hair back into a high ponytail while keeping the lower part down.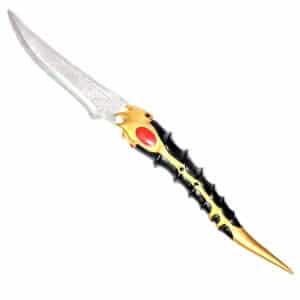 The fancy looking, Valyrian steel dagger that was used in the first season by an assassin in an attempt to kill Bran, found its way to the young Stark. She used it to kill Littlefinger and in the last season, the Night King. This one is made from hard foam.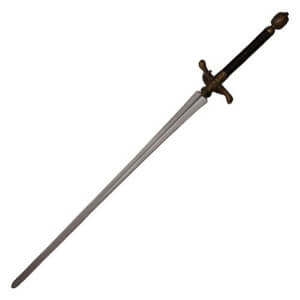 No Arya costume will ever be complete without her famous "Needle". This is a more affordable version of Arya Stark's sword made from foam and plastic. Just remember, "Stick them with the pointy end".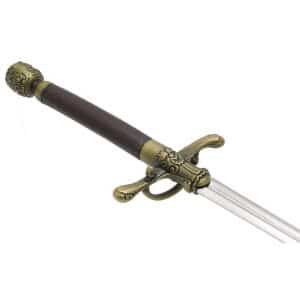 This is not a toy and it does not cost like a toy. It might not be a Valyrian steel but it is full size, 30 inches long highly detailed stainless steel sword. The hilt is made with leather and brass. It comes with Silkscreened wood with Direwolf sigil.
Arya Stark Early Seasons Outfit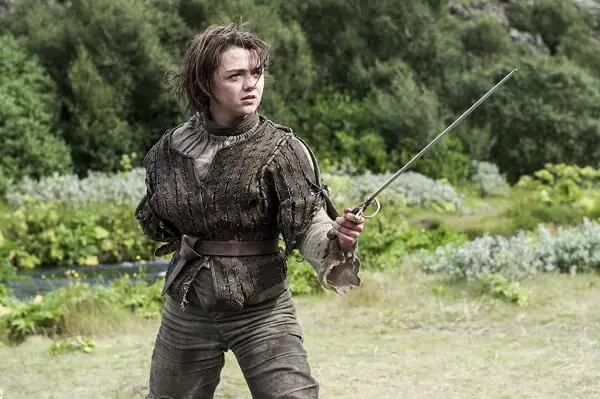 When the show starts, Arya is just a little girl. But by the last episode of Game of Thrones, she is an experienced fighter, killer, executioner. In between those two ends, there was a lot of things going on for her. She was taken captive, bought and sold, she traveled across Westeros with Night's Watch recruits, The Hound and more. During those travels, she wore a simple, yet very distinctive outfit.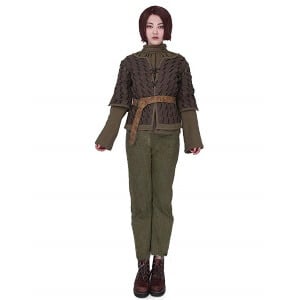 This Game of Thrones Arya costume looks in design very similar to what she wore most of the time in Game of Thrones, mainly around season 4. It includes the shirt, coat, pants and a belt. Don't forget to add your "Needle".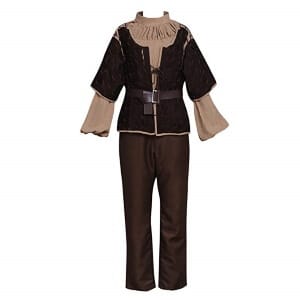 Another option to Arya Halloween costume. The design is similar to the previous one and to the clothes she wore on the show but some of the colors are a little different.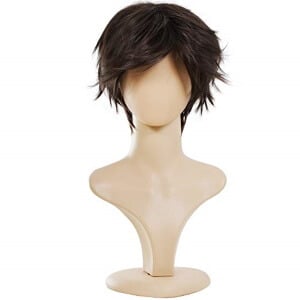 A short brown hair wig similar to what she had earlier in the show. This wig was meant to be wore by men, which is great as during those episodes she traveled in Westeros pretending to be a boy.
Arya in the House of Black and White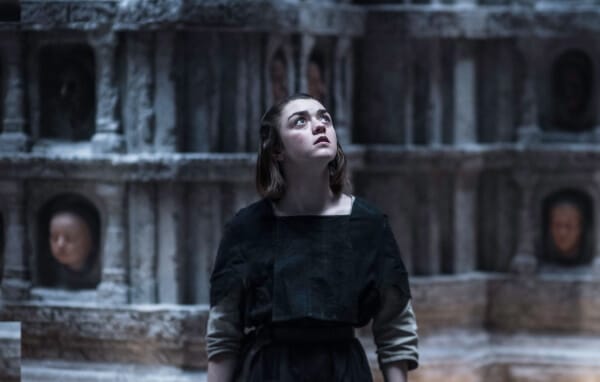 When she arrived to the House of Black and White in Braavos, she became the apprentice of Jaqen H'ghar and his student, the ever-mad Waif.  During her training, she mostly wore this simple black dress that had half white sleeves.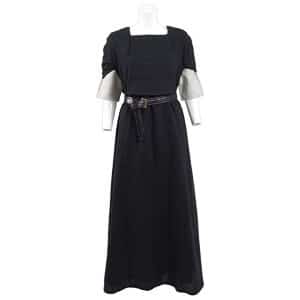 This dress is a replica to the dress she wore when she was in Braavos. She was training in The House of Black and White to become No One. It includes a shirt, a dress and a belt.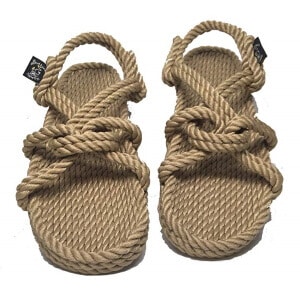 While the dress is probably enough to be recognized if you are going to a Game of Thrones theme party, if you are incline to give high attention to details, those rope sandals are closer to the real thing.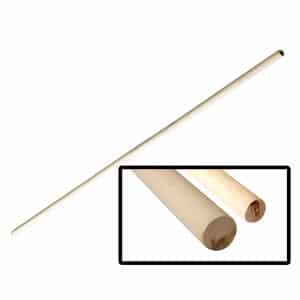 If you are really interested to have a complete look of your Arya costume, this simple BO staff is cool and unexpected add on.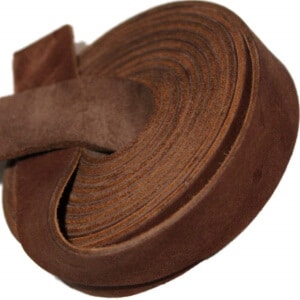 The BO staff here is coming plain and without any additions. To make it look more "realistic" you should probably decorate the two ends of the staff with leather wrapping.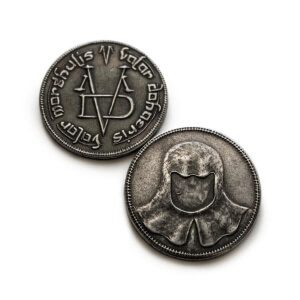 The one thing you must have if you plan a trip to Braavos is the Valar Morghulis coin. Acceptable anywhere they accept faceless men money.
Back in the beginning of the second season, when Arya was traveling north to Castle Black with Yoren. Before she went to sleep, she recite the names of the people who did her family and friends wrong. Those were the people she believed should die. By doing that, she created her famous (or infamous) Arya's list. It started out with a short list with the names of the people responsible for her father's death. Over the course of her travels, more and more names were added and some were removed as they found their death by her hands or other's. The only one that was removed from Arya's list without being dead was The Hound. So who exactly was on Arya's list and are they dead or not:
Joffrey – Dead
Cersei – Dead
Walder Frey – Dead
Meryn Trant – Dead
Tywin Lannister – Dead
The Red Woman – Dead
Beric Dondarion – Dead
Thoros Of Myr – Dead
Illyan Paine – Probably
Polliver – Dead
Rorge – Dead
The Mountain – Dead
The Hound – Dead
Quite impressive to see that out of the 13 names in the list, 12 are dead for sure and the last one is probably dead too. While Arya did try to kill all the people of in her list, she only got to kill 4 of them. Giving her a kill rate of 31%.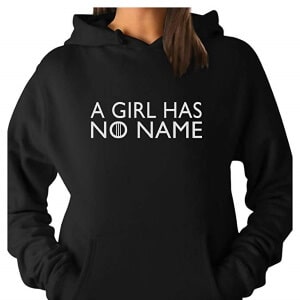 Similar to the popular t-shirt, this hoodie is more fitting for winter or chilly nights.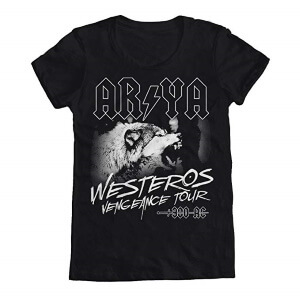 A very funny and unexpected shirt showing Arya's name in AC/DC writing, Nymeria and the writing "Westeros Vengeance Tour".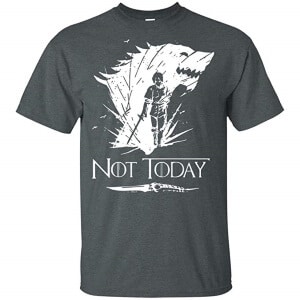 Yet another "No Today" T-Shirt showing also her silhouette and her direwolf, Nymeria.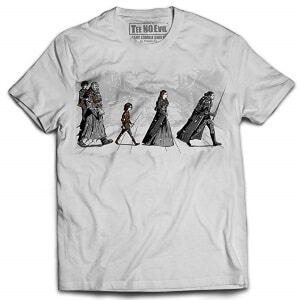 This shirt is showing members of the Stark family like they were The Beatles. Extremely funny.