If you choose to wear a Jaime Lannister costume for Halloween or for a Game of Thrones party, you should be aware that some people will like it, and some won't. The reason for that lies in the complexity of Jaime's character. When the story starts, we are told and shown Jaime as an arrogant, handsome man, that  sleeps with his twin sister (who is married to the king). Yes, hard to believe, but that was already in the first episode. Also in the first episode, we learn that he was the king's guard. But instead of guarding the king, he stabbed him in the back (literally) and killed him. An action that earned him the notorious name, Kingslayer (or King Killer as Tormund Giantsbane called him). If that wasn't enough, still in the first episode of the show, he shoved the seven years old Bran out of the tower's window hoping to kill him. Pheww, if you ever needed a reason to hate a character, they gave you about twenty! 
As the show progressed, we got more and more reasons to hate Jaime. But from time to time saw a good side of him. Like the way he treated his brother Tyrion, the way he opposed to the Red Wedding, and more. Undoubtedly, the complete turn was when he was freed from capture and decided to help Brienne of Tarth. Later he joined forces with the Starks to protect Winterfell. To sum up, a real complex character…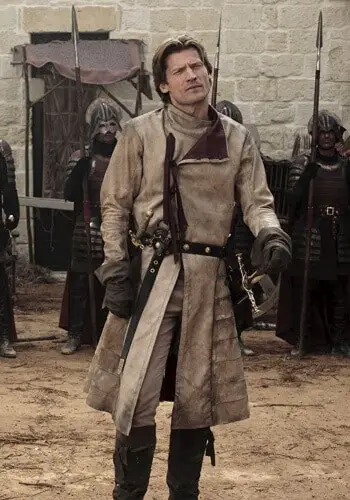 Jaime Lannister Halloween Costume
There are several components to creating a successful Jaime Lannister Halloween costume. First, obviously, the clothes. We are showing two different sets of Jaime Lannister outfits. both are very associated with the character. The beige coat and the golden armor. When you get the outfit part done, you can add some other parts. Some are mandatory to the Jaime Lannister costume and some aren't. For example, the hair is mandatory. You can't wear a Jaime Lannister outfit with a long black hair or if you are bald. It just wouldn't work. The boots are nice to have but are not mandatory to complete the look and also getting a replica for Jaime Lannister sword, the Oathkeeper. 
But, and that is a big but, if you are looking to make a good impression with your Jaime Lannister costume, don't overlook Jaime's key feature, the golden hand. This can really bring your costume together and elevate it. It is also the place to get creative as you can see with the examples below.
This is a great Jaime Lannister coat costume. The design and the color are very close to the original outfit Jaime is shown wearing in the above photo. It includes most of items you need for the costume: white pants and top, the coat, the belt and a pair of gloves. While not cheap, you are definitely getting a lot for this price.
This is another version of the same Jaime Lannister costume. Probably the biggest difference is the price. This costume costs around half of the previous one while still providing a decent outfit. In this set you are not getting the pants and top but only the coat, the belt and the gauntlets. The color and the design are not as close to the original as the previous costume so it is up to you to decide if you want to spend the extra $$ for a better set.
If you prefer to have the King's Guard Jamie costume, this is the most affordable set you can find online. While not exactly a replica, it should do just fine. The set includes the tunic, the pants, a 3-piece gold color chest and shoulders armor, the cape and a pair of gloves. All of those items in under $100 is quite a sweet deal.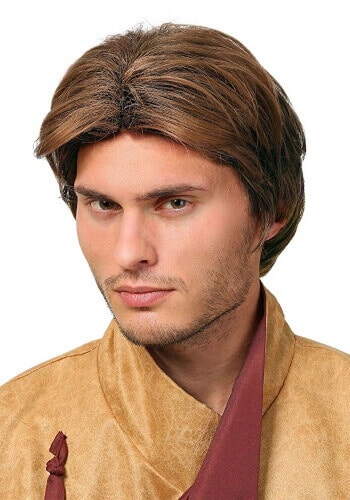 Jaime's hair is perfect! Like all Lannisters (maybe except Tyrion in the later seasons for some reason) his hair is golden-brown. This wig will work for your Jaime costume if you don't have close enough hair originally.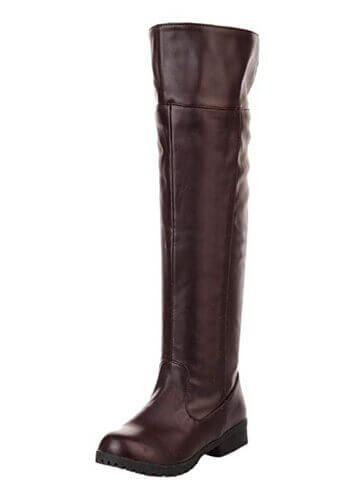 Wearing or buying those brown men boots for your Jamie Lannister Halloween costume isn't a must. Some shoes will work just fine. On the other hand, sneakers will probably won't work as well.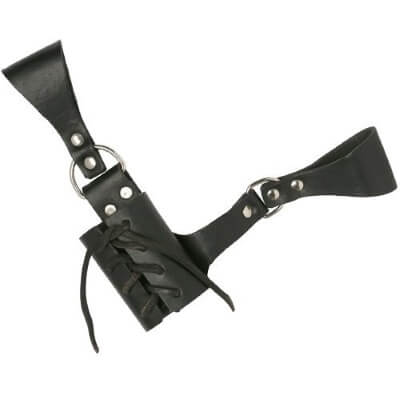 If you are looking to add a sword to any one of the costume options above, this is a good sword frog to buy. It is very popular and got a lot of high reviews. It can fit any belt and somewhat adjustable.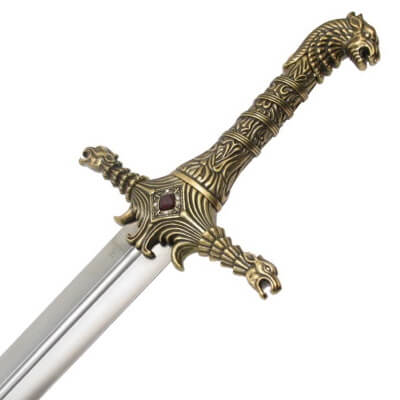 Tywin Lannister melted Ned Stark's "Ice" sword and created two swords. The King Joffrey's sword and the Oathkeeper. Later on, Jaime gave the Oathkeeper to Brienne. This one is not a toy! It is a beautiful craftsmanship.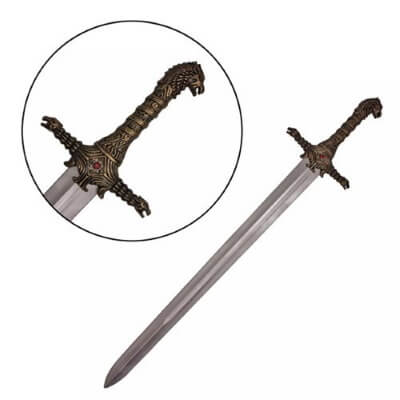 Unlike the previous Oathkeeper, this sword is actually something you can wear with your costume. It is the foam version of the Oathkeeper, the sword used by Jaime and Brienne. Although it is made out of foam it is pretty remarkable with a 43" length.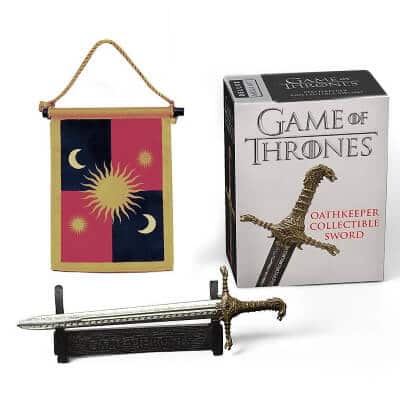 If the previous Oathkeeper had a 43 inches length, this one is only 4-1/2". Don't be confused by the size. This is a very high quality item that comes with a stand and a Lannister/Tarth banner. Hundreds of satisfied costumers are not wrong.
Jaime Lannister Gold Hand
Jaime Lannister lost his hand after he was captured by Robb Stark. He didn't lose it in battle but rather tried to negotiate his freedom promising the Lannister's gold and ended up getting his hand cut off. When they cut his hand off, they made him wear it as a necklace which wasn't a pretty sight. When he got back to King's Landing, they fixed him up with a prosthetic hand. But has Lannisters don't do anything small scale, he got his famous Jaime Lannister golden hand. 
Wearing the golden hand to complete your Jamie Halloween costume is a must. But it is also where you can express yourself in a fun way. True, you can find something similar to what was showed in the TV. But with those options, why would you?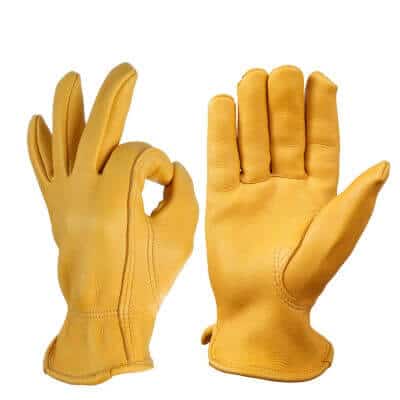 This is the first and the only straight forward option to simulate a gold hand. Basically, those a deerskin leather gloves in a gold color. It will help you with your costume and useful for other stuff as well.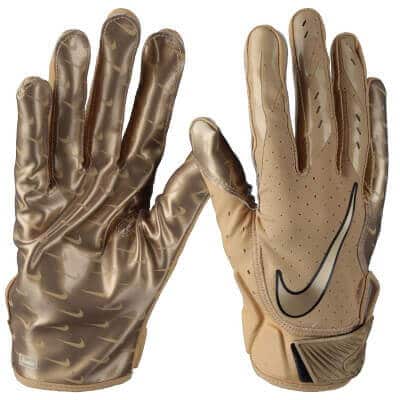 Let's start getting creative here. If Jaime was living in the 19 or 20 century he would have probably be the quarterback. As such, why not set you up with a gold football glove to simulate his golden hand.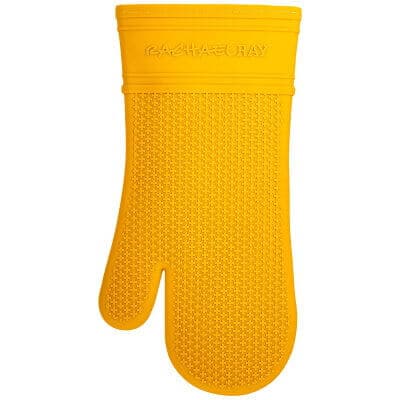 Looking for a funny twist? Try to put on this Rachael Ray's yellow oven mitt as Jaime Lannister gold hand. Hot Stuff!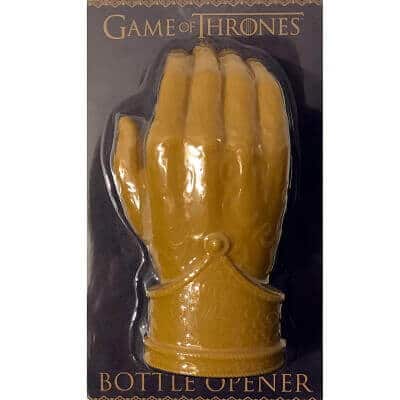 You will probably won't be able to wear this to Halloween but will work great as a bottle opener and it looks like Jaime's hand.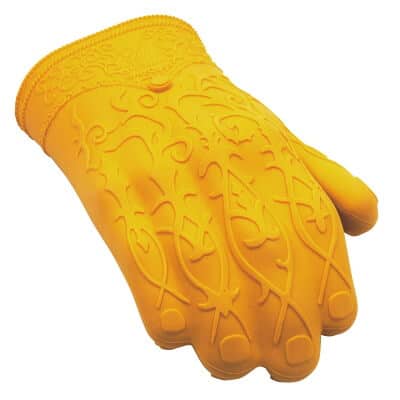 Unlike the previous yellow mitt that you can wear as Jaime's hand, this one is an actual yellow oven mitt that was designed to look like Jaime's hand. It doesn't get any better than this!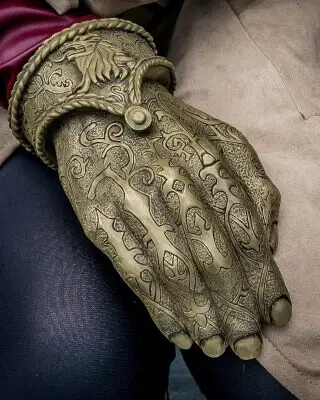 If you weren't sold by the previous better options, here it is. A replica of Jaime Lannister gold hand. Not explanation necessary.