100 Best Game of Thrones Merchandise and Gifts
It was clear from the beginning, Game of Thrones was set to be a success. A phenomenon like never seen before with adult rated TV shows. The story of the families fighting to sit on the iron throne and rule the seven kingdoms of Westeros captivated longtime fans of the "A Song of Ice and Fire" book series as well as people who never heard of it before. The high production costs, which were estimated around 5 million dollars per episode, didn't make HBO turn away and the show lasted 8 seasons (season 8 is going to be aired in 2019).
Naturally, such success comes with an extremely large fan base and high demand for more and more Game of Thrones merchandise. Everything from replicas, Funko Pop!, collectibles, clothes, cookware, house décor and other memorabilia items.  Whether you are looking to buy some Game of Thrones merchandise for yourself or as a unique gift for a hardcore Game of Thrones fan, we got 100 (literally, one hundred) different cool ideas for you.
1.      Game of Thrones Characters Costume
Whether you are preparing for a Halloween costume party, fun role play, or even if you just like to sit on your sofa and watch the show as Jon Snow, there is an endless amount of dress up options for you. Obviously, the most popular costumes are Jon Snow and Daenerys Targaryen. Choose your favorite Game of Thrones costume.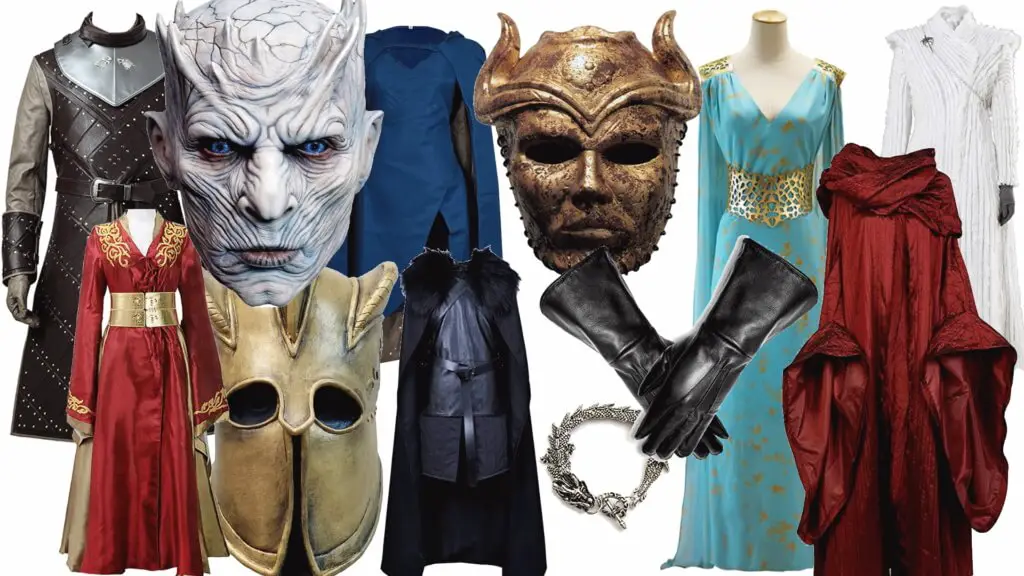 2.      Hodor Door Stopper
Holding the door is a drag and in some cases can even be dangerous. Instead of reliving one of the most emotional scene in Game of Thrones, make sure you have the Hodor door stopper to help you keep the door closed (or opened).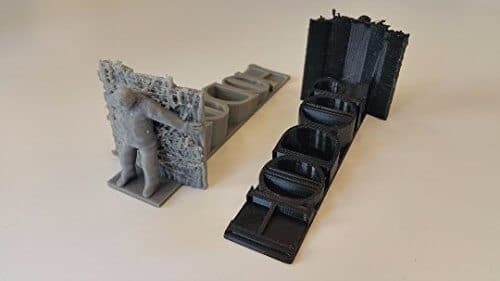 3.      A Trip to the Show's Film Site
This is a really out of the box experience for Game of Thrones fans. The show was filmed in different places in Europe and around the world. Visit the actual Game of Thrones filming locations.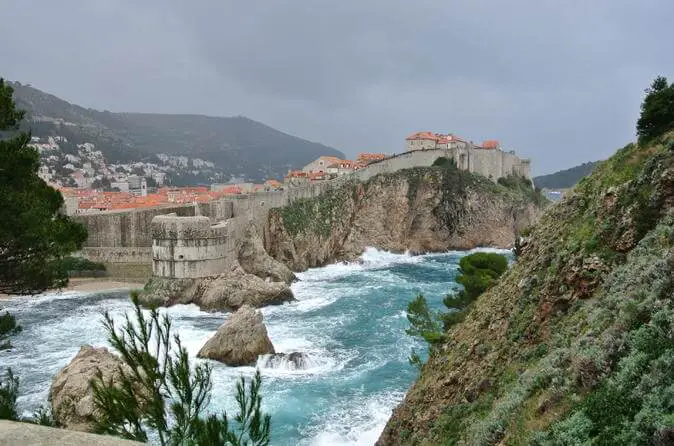 4.      Throw Blankets
When the snow falls and the white wind blows, it can be quite cold to watch your favorite show. Buy a fleece throw blanket with your favorite print and watch comfortably. available here.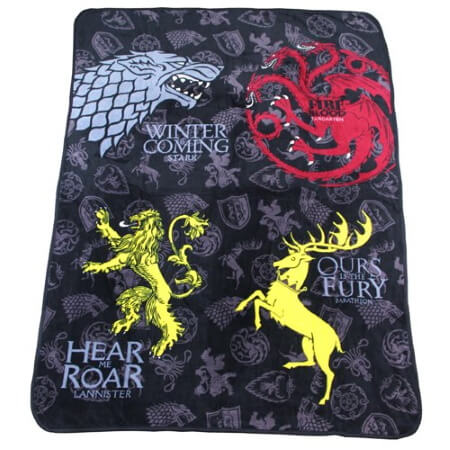 5.      House of Stark Cufflinks
Dress up with style and show your loyalty to the house with those great cufflinks and tie-clip package. This set has the Stark direwolf sigil but of course, many different options available.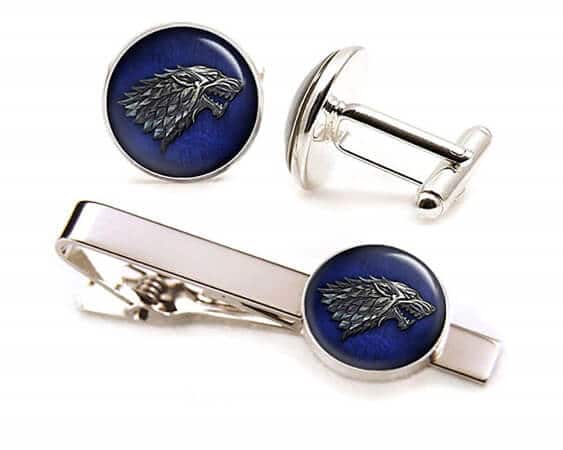 6.      Game of Thrones Mugs
Mugs are pretty much a domain of their own. With literally endless amount of options such as: quotes, inscribing, sigil, funny, heat sensitive and more. Just choose the one that fits your personality like this one of the Hall of Faces Mug that show the faces when you heat up the cup.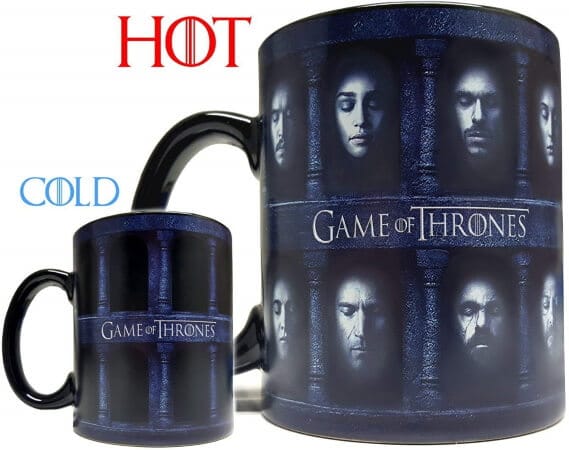 7.      Replica Swords
Owning Jon Snow's Longclaw or Khal Drogo's Arakh is not cheap but collecting beautiful pieces of blacksmithing is gaining popularity over the years. The two main websites that sale replicas of weapons from the show are HBO Store and Valyrian Steel. Both have quite large selection of handmade items.

8.      Longclaw Sword Umbrella
Collecting swords can be expensive and dangerous. In case you still want to own the Longclaw, you can but the officially licensed Longclaw Sword Umbrella.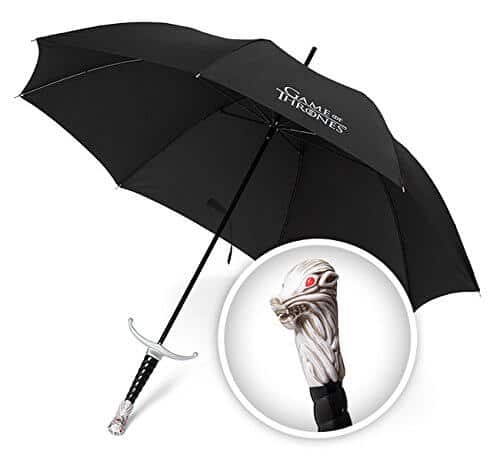 9.      Game of Thrones Baby Onesies
Dressing up a baby with adult related theme is always cute. There are many hilarious variations of famous Game of Thrones quotes such as "Nap time is coming", "I drink milk and I know things", "Sorry ladies, I am in the night's watch" and more. See the hand pick selection of our Game of Thrones Baby Onesies.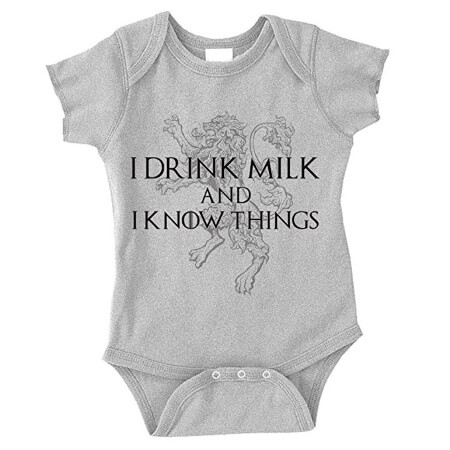 ---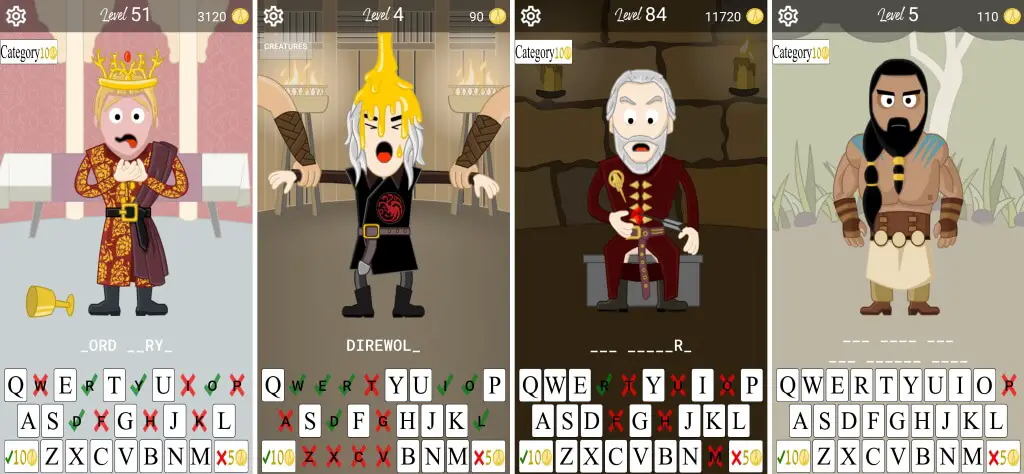 ---
10. Hand of the King Bottle Opener
It doesn't really matter if winter is here or summer, you still need to open your beer somehow. This Hand of the King bottle opener opens caps as well as letters. It has a powerful magnet so you will never lose your hand.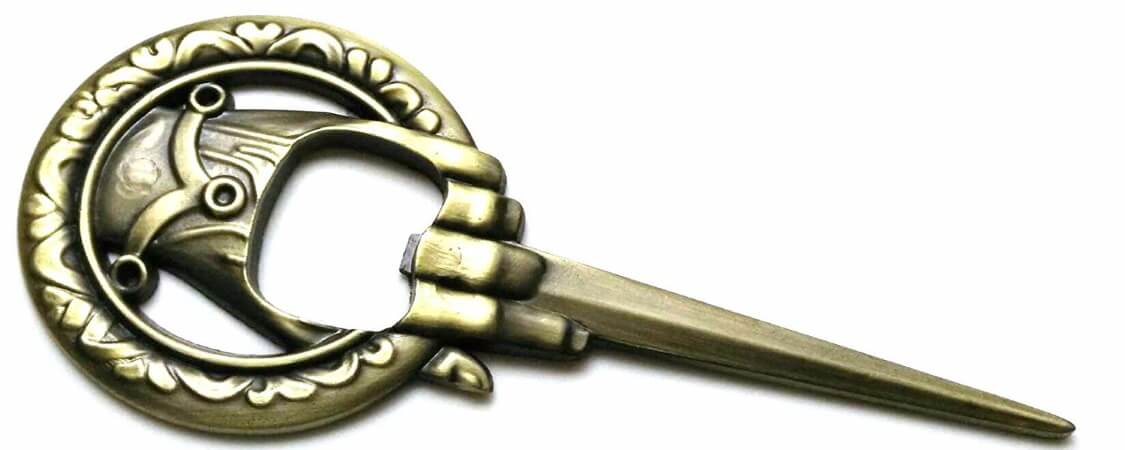 11. Game of Thrones Steelbook
Game of Thrones Steelbooks are special collector's edition of each season. They are limited by number and include extra content and design. Truly a fan must. They are a little more expensive than the standard edition but still very affordable.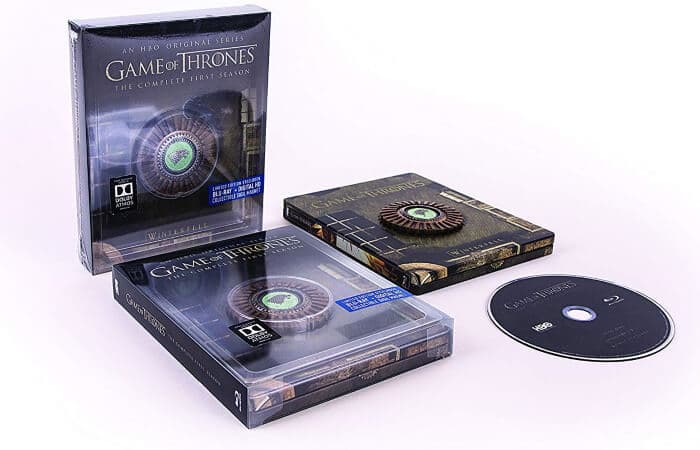 12. Inside HBO's Game of Thrones
This Inside HBO Game of Thrones book is, as its name suggests, an amazing inside look to the making of the show with a beautifully illustrated book. This package includes scrolled maps, storyboards that were never seen before and much more. The book explains how the books became a TV show, the long process it included, interviews with actors and crew members and even a note from George R. R. Martin himself.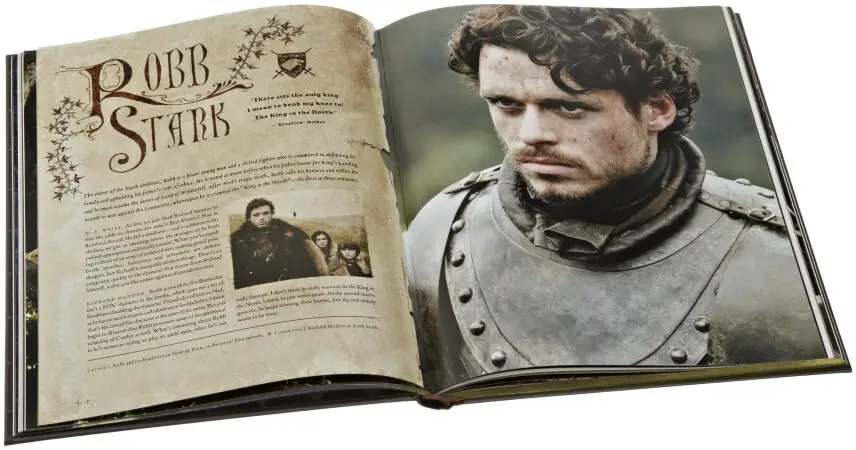 13. The Hound's Helm
The hound is one of the most interesting characters in the seven kingdoms of Westeros. The hound is a great warrior and a brother of another infamous character. His helm has a special design to it and this item is limited to 2,500 units.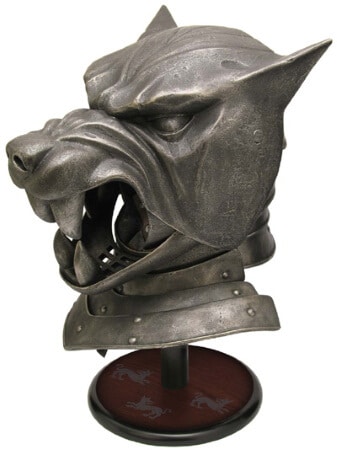 14. Game of Thrones Funko Pop
The different options available in Funko Pop! are bigger than the land of Westeros. You can buy almost every character from the show and most of them even come in different options. Choose between Grey Worm, Melisandre, Night's King, Ghost or any other from the hundred options available. A real Game of Thrones merchandise item.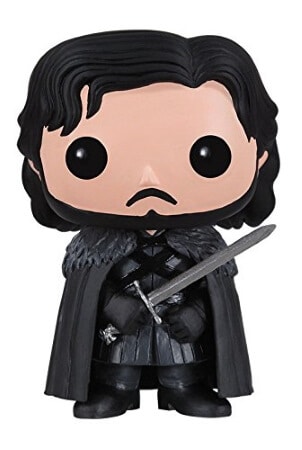 15. Figures
While the Funko Pop have their own take of the characters, the Game of Thrones figures try to make it closer to the "real" thing. Usually around 7 inches high, those small artwork attempts (and usually succeed) to capture every little detail.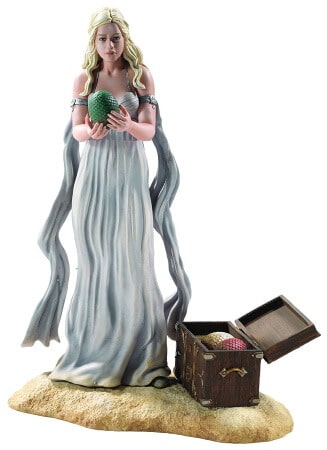 16. "I drink and I know things" Wine Glasses
Add some class to your wine drinking evenings. Get wine glasses with quotes and references from the show.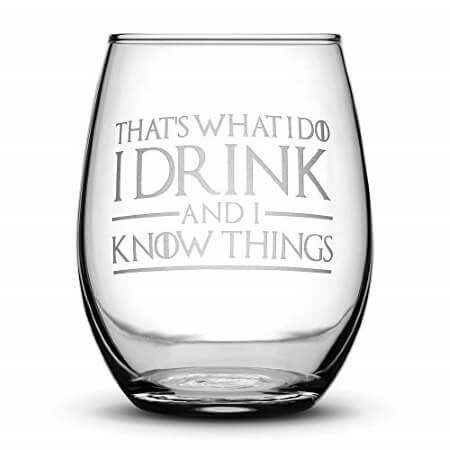 17. Pop Up Card
You simply wouldn't believe the amount of details you see in those Game of Thrones Pop-Up Cards. Amazing paper craftsmanship which will surprise any fan.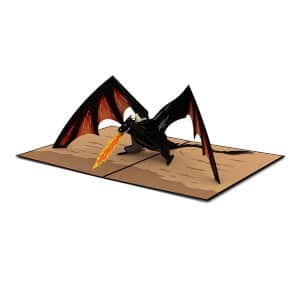 18. Insights Journal
When it comes to the show's themed journal there are many options to choose from. It can be leather or hard cover but there is no doubt your notes and comments will have the respect they deserve in one of those journals. The "Valar Morghulis" is our favorite. This is a great gift to any Game of Thrones fan.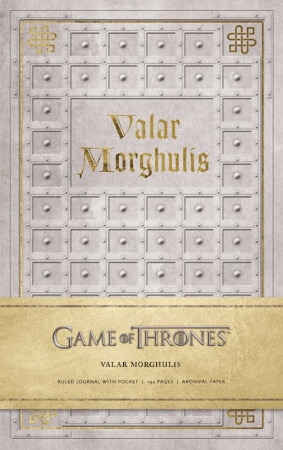 19. Dornish wine
Well, getting a Dornish wine is probably not possible but there are a few people that make wine to match the strength the characters and the terrain of their kingdoms. One of them is Bob Cabral and you can find his wine on his website or in selected wine stores.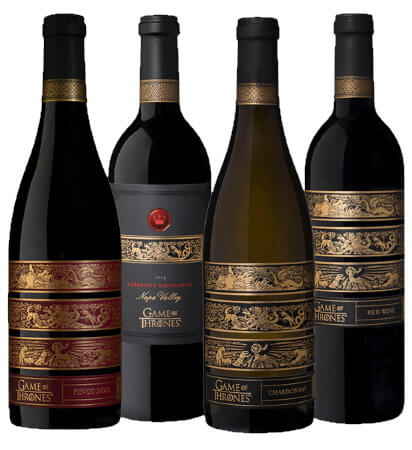 20. Wine Stoppers
For those who open a wine bottle, Dornish or other, and need a stopper. Many options available, like house sigil, dragon eggs and more.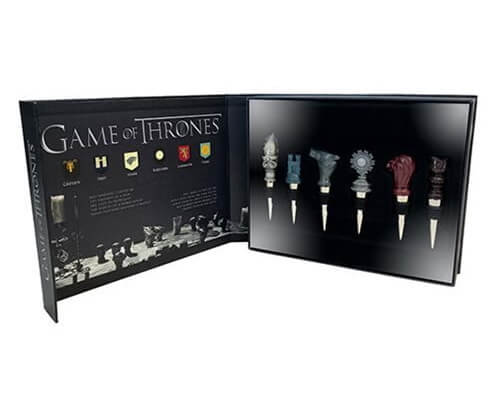 21. House Sigil Wine Glass Charms
You have the wine and the glasses, get the houses sigil charms so your guests could declare their loyalty to their favorite house, and also tell which glass is theirs.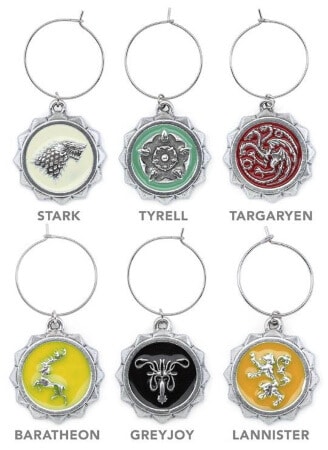 22. Ugly Christmas Sweater
A cool spin to the Game of Thrones ugly Christmas sweater you probably need to wear around Christmas time. Winter is coming and it is ugly. Who said Game of Thrones merchandise is only figures and swords.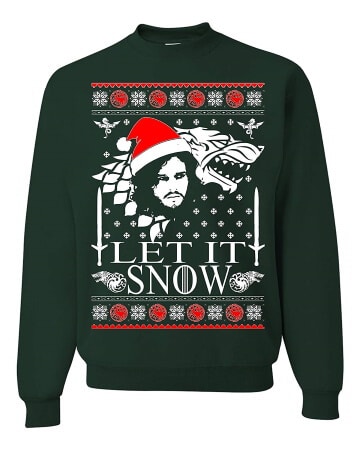 23. Brain of Thrones
If you are looking for Game of Thrones quizzes, this is the ultimate quiz bank. With over 400 (!) questions from seasons 1 through 7, cover everything from general knowledge to specific topics. Your test begins, NOW!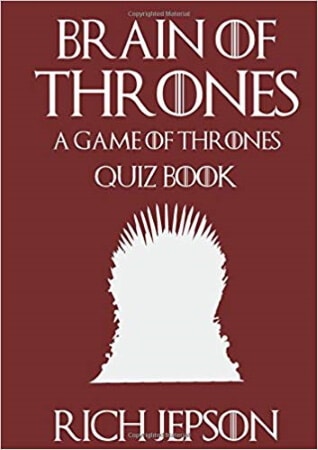 24. The Trivia Game
And if talking about trivia questions, this is the game to play. You can play this trivia/strategy Game of Thrones board game with 2 to 4 players. You can even organize the questions by seasons to avoid spoilers. Let the games begin.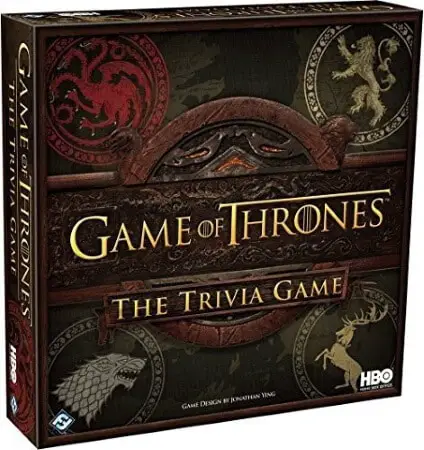 25. House Sigil Keychain Charms
Every house has a key. But now, every key can have a house. Whose house you wish your key to have? Stark or Targaryen? Lannister or Baratheon? Get your pick.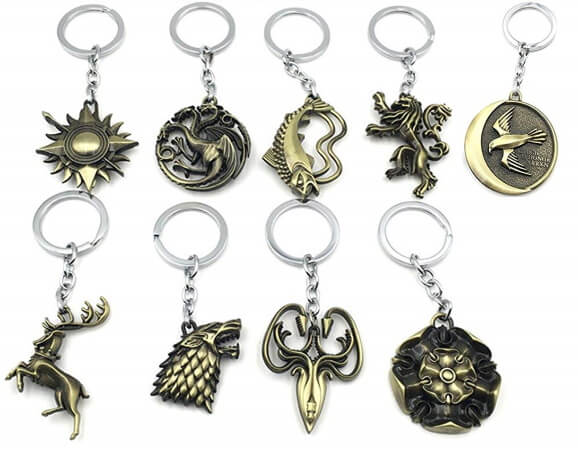 26. Kitchen Cutting Board
Knowing that winter is coming is exciting. Even more exciting is knowing that dinner is coming. Prepare your next family meal on this Game of Thrones cutting board. Real wood, really funny.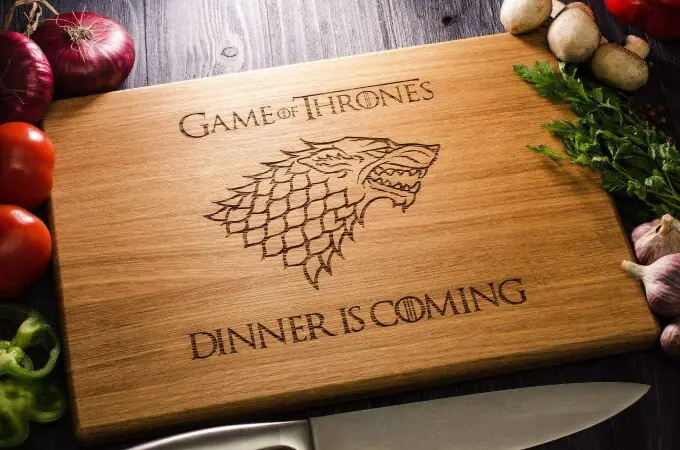 27. Longclaw Desk Lamp
Jon Snow and lord Mormont had to use an oil lantern. But it doesn't make you any less of a night's watch supporter if you use Game of Thrones lamps.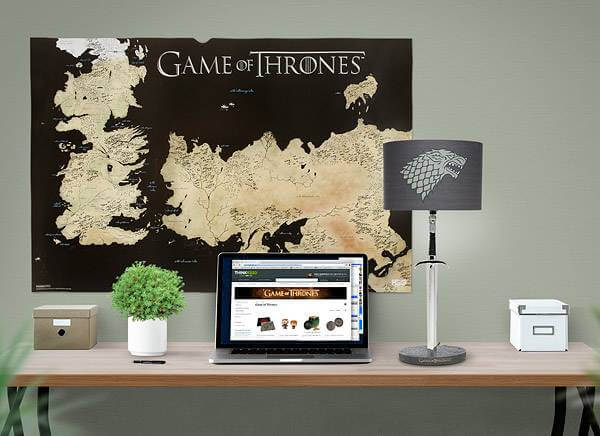 28. House Sigil Tournament Banner
Don't go into battle without waving your tournament banner to show in which house your loyalty resides. Comes with holes for easier hanging. Available for all major houses. Great officially licensed Game of Thrones merchandise.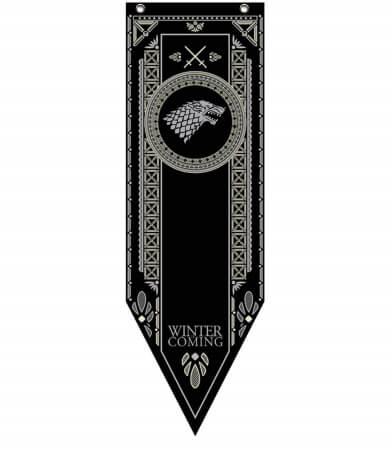 29. Iron Throne Toilet Decals
The iron throne comes with many responsibilities. You know what your real throne is.  Sit on it proudly as you turn this cold porcelain to the iron throne and rule like the king of the seven kingdoms.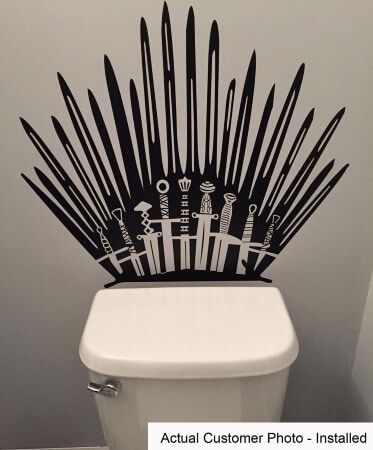 30. House Sigil Coasters
Say hello to great looking coasters and entertain your guests with style. There are many options available. Choose from wood, wax, cork and more. Game of Thrones coasters can make a really nice gift.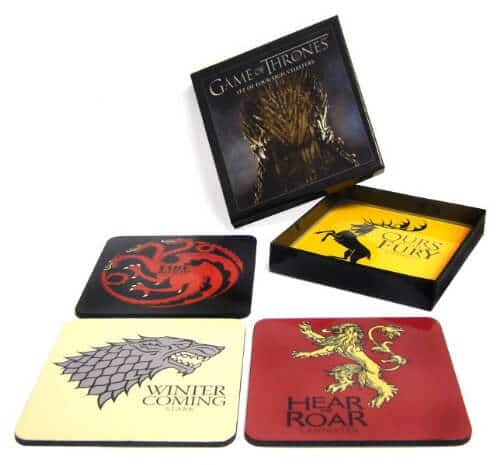 31. House Sigil Magnet Set
Throw away those ugly repairman refrigerator magnets and start hanging important pictures and notes with a set of house sigil magnet.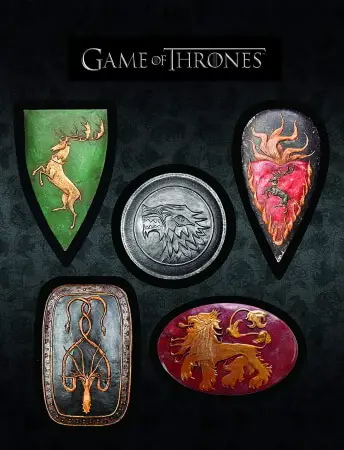 32. GoT USB Flash Drive
Straight from the land of Westeros, a USB flash drive to holds your documents and files. Because keeping everything in those little rolled up paper notes can get really messy. Talk about unexpected Game of Thrones Merchandise.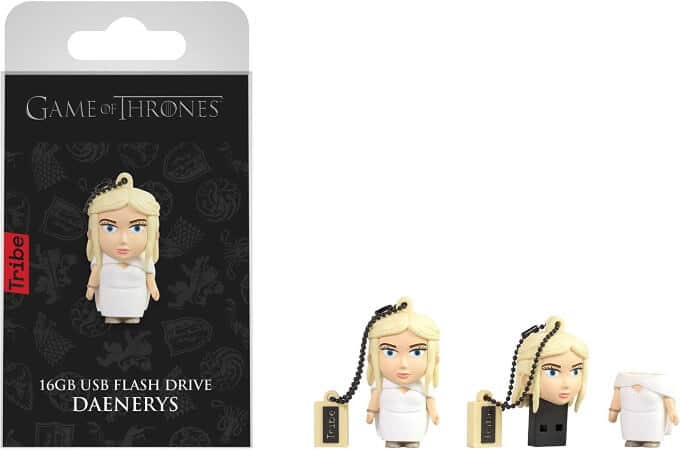 33. Game of Thrones Playing Cards
Those poker nights can get a little boring after a while. You can use the playing cards with the GoT theme to spice it up a little bit. Just let's see you keep your poker face when you hold a full Baratheon house.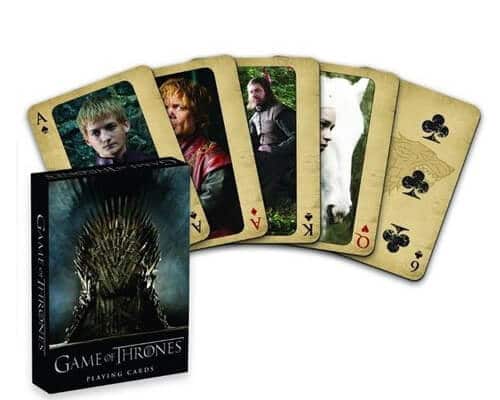 34. Targaryen Herb Grinder
The herb grinder is a truly unexpected item for fans of the series. Show your love with herb grinder emblazoned with a sigil or a quote.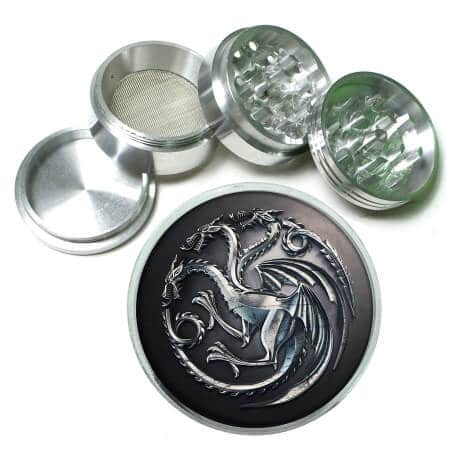 35. Personalized Doormats
With a single personalized Game of Thrones doormat your guests can tell both what is your favorite TV show and which house you swear to. It doesn't have to be only Stark or Lannister. It can just as well be Jackson, Smith or other.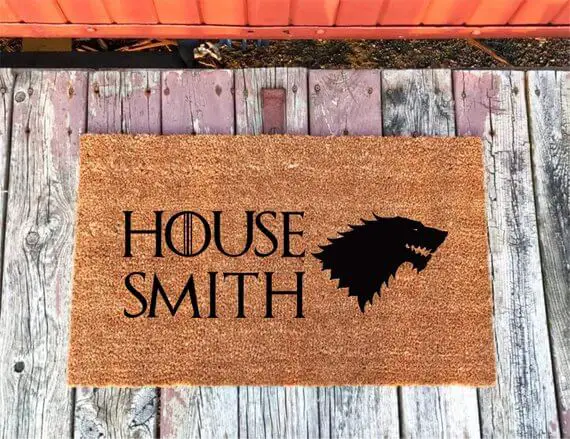 36. Game of Thrones Video Game
Over the years, a few video games were released and some are about to be released. Those video games have different level of quality. While some are only mediocre or less, some are considered to be really good. Still, a Game of Thrones video game is a great gift for any GoT fan.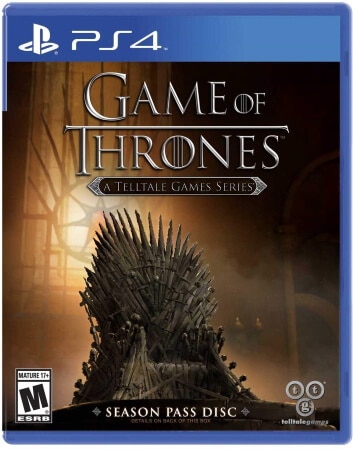 37. Iron Throne Replica
The Iron Throne is made out of hundreds of swords and according to whoever sat on it, known to be very uncomfortable. This popular Game of Thrones merchandise is a 7 inches tall replica made with high attention to details.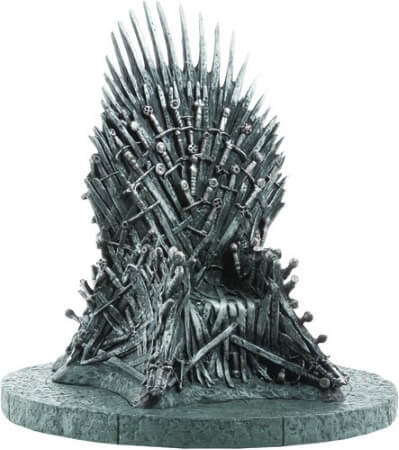 38. Game of Thrones Team Jerseys
It is very easy to imagine the houses as sports teams. The "Winterfell Starks", the "Casterly Rock Lannisters". This can look great as an imaginary jersey or even better, as an office league team uniform.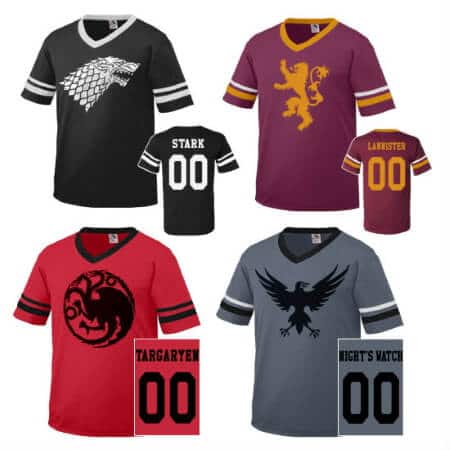 39. Night's Watch Recruitment Poster
A Game of Thrones poster to encourage people to join the night's watch that was created with inspiration from the classic concert posters.  Join Jon Snow on the wall. Just remember, once you go black…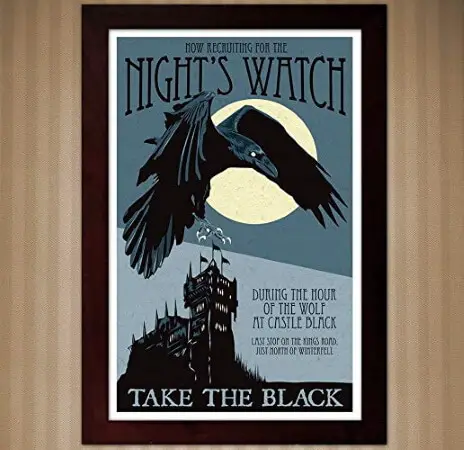 40. A Feast of Ice & Fire
Some of the food they eat in the show looks delicious, some is less appealing. But if you are interested in cooking a special meal, this is the official cookbook of Game of Thrones. The cookbook includes great recipes with delicious pictures.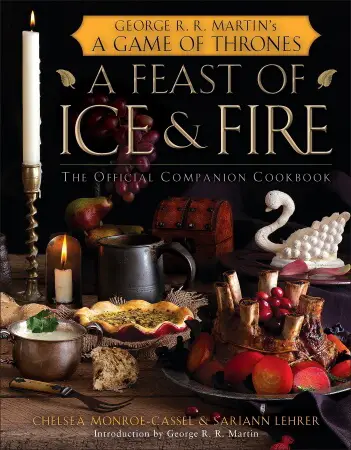 41. Game of Thrones Underwear
This is a surprising realm we didn't expect the show to rule but we were proven wrong. What a great new way to secretly show your fandom to the show. If you tell people you are a Targaryen but really prefer the Lannisters, this is probably your best way to go. An interesting way to keep a Game of Thrones Merchandise close to your body.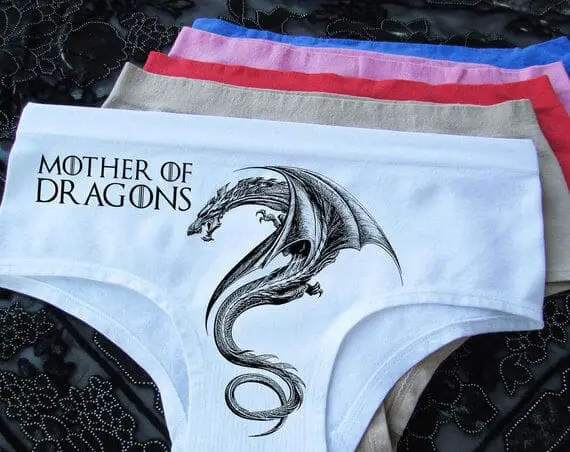 42. Wall Calendar
Get your next Game of Thrones calendar in a seven kingdoms theme. Choose between different options of pictures of the characters, scenes, real filming locations and more.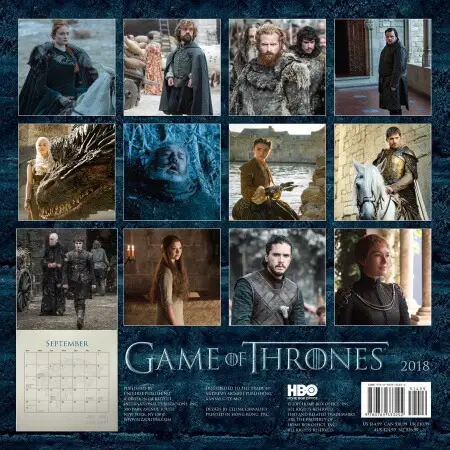 43. The Wit & Wisdom of Tyrion Lannister
There is no doubt that Tyrion Lannister is the wittiest and most colorful character in this tale. With his funny and sharp one-liners, Tyrion quotes are spicing up the world of Westeros. This book includes a collection of his quotes along with some illustrations.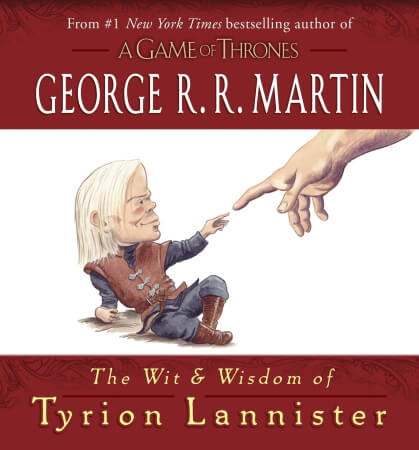 44. Autographed Photo
Autographed photos are great memorabilia. You can get almost any actor's signed photo or even George R. R. Martin's. The signed Kit Harington is one of the most popular.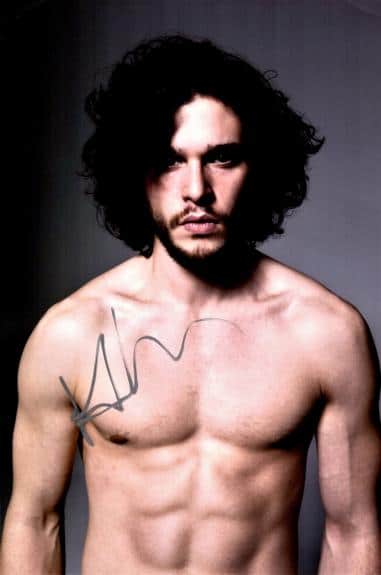 45. Stark Shield Backpack
True, your day to day activities doesn't require you to carry a round shield around. But you can still get your stuff into a Stark Shield Backpack. It even comes with a place for a laptop. Jon Snow wishes he had one of those.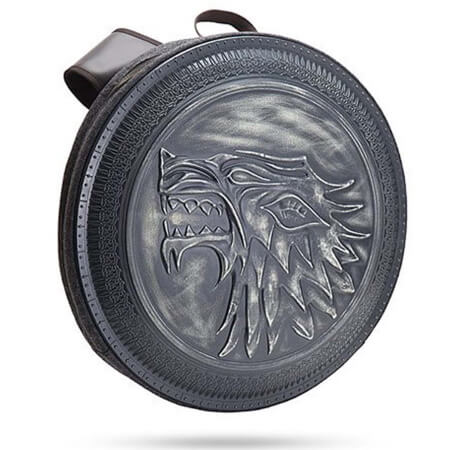 46. Westeros Transit System Poster
If Westeros had a public transportation system, they would probably get more things done. And if they did, it would probably look like this.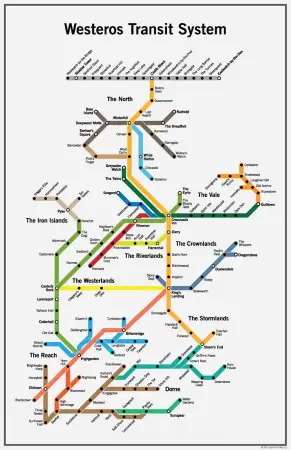 47. T-Shirts
We could have made a list of over 100 great GoT themed T-shirts. The possibilities are practically endless. Quotes, graphics, house sigil, scenes, etc. The list just goes on and on.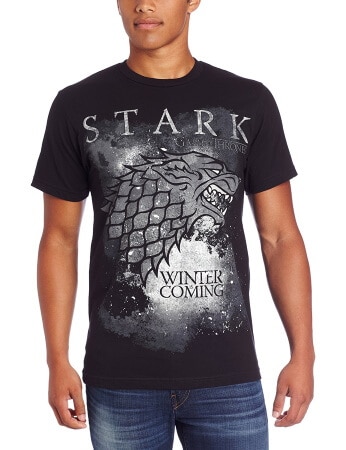 48. Targaryen Sigil Tie
Let's say you are a business executive who admires house Targaryen, but you have to wear suits to work every day and can't really wear T-shirts, what do you do? Well, luckily for you there is a solution. Game of Thrones neck ties with your favorite house sigil. Don't stop the wheel, break it.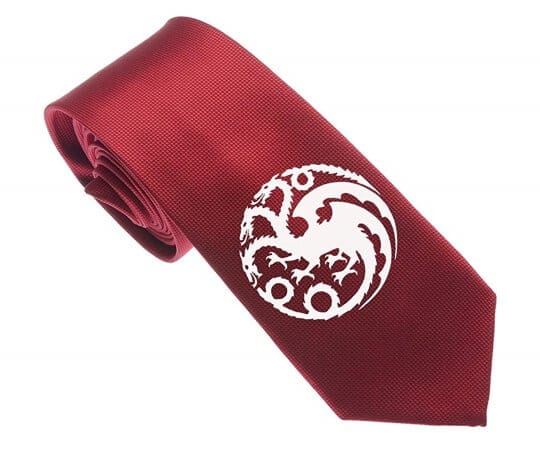 49. Valar Morgulis Coin
Valar Morghulis (all men must die), answered by Valar Dohaeris (all men must serve) is a known quote from the show. Keep this Valar Morgulis Coin in your pocket just in case you find yourself in Braavos. You never know when you will be face to face with the faceless man.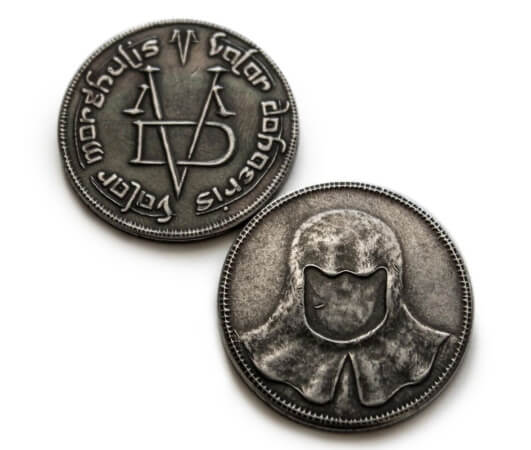 50. A Song of Ice and Fire
There is no need to explain. This is the book series that started the amazing phenomenon. The book set itself comes in many different options including this beautiful leather-cloth-bound. It can be a great gift to someone who owns the standard edition.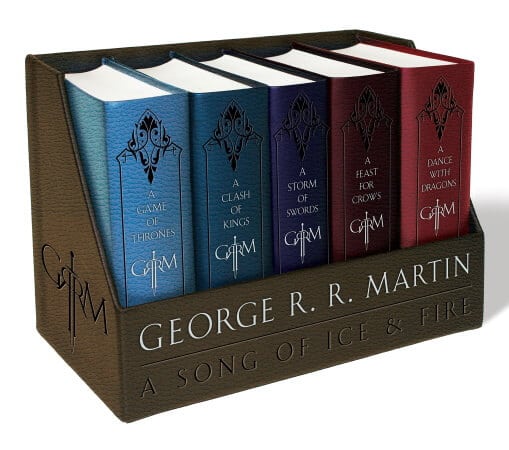 51. Dragon Egg Cookie Jar
What a better place to store homemade chocolate chip cookies than inside a large dragon egg. This large dragon egg is a great decoration item which is also very useful. And if you catch someone with their hand in the cookie jar, Dracarys!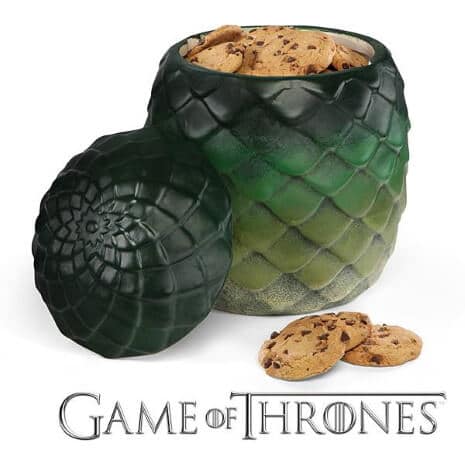 52. Game of Thrones Coloring Book
A perfect gift for any George R. R. Martin fan, this Game of Thrones coloring book features 45 illustrations and paragraphs from the series. A great way to pass the time until the next episode is aired.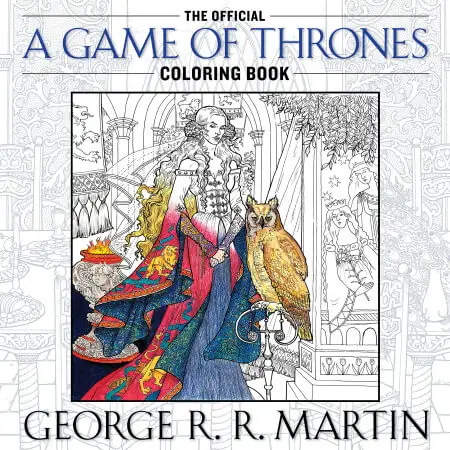 53. Winter is Coming Wallet
This one is a great house of Stark sigil direwolf wallet. Let's see someone going after your money now. If you are not a fan of the direwolf, there are also many other options available.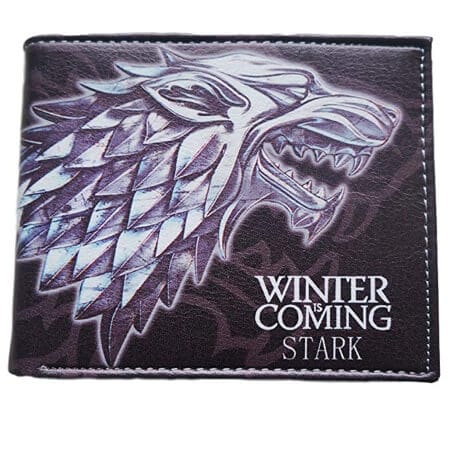 54. Game of Thrones Monopoly
The Game of Thrones Monopoly is the Westeros version of this classic game. Practically everything in this game was customized to give the feeling of the fantasy world. Choose a house and roll the dices.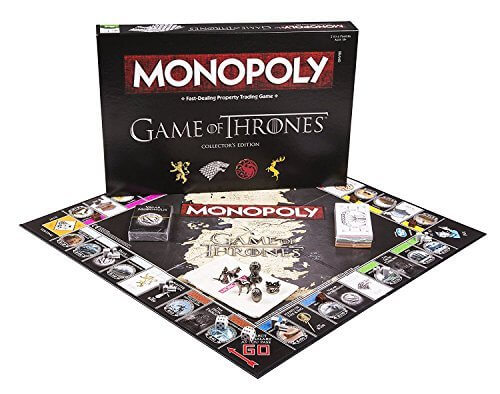 55. Dragon Eggs Salt and Pepper Shakers
This is a great kitchen set of salt & pepper shakers. They are shaped to look like Daenerys' three baby dragon eggs. Drogon's egg holds dark pepper, Viserion has the salt, and Rhaegal's egg is actually a two piece toothpick holder.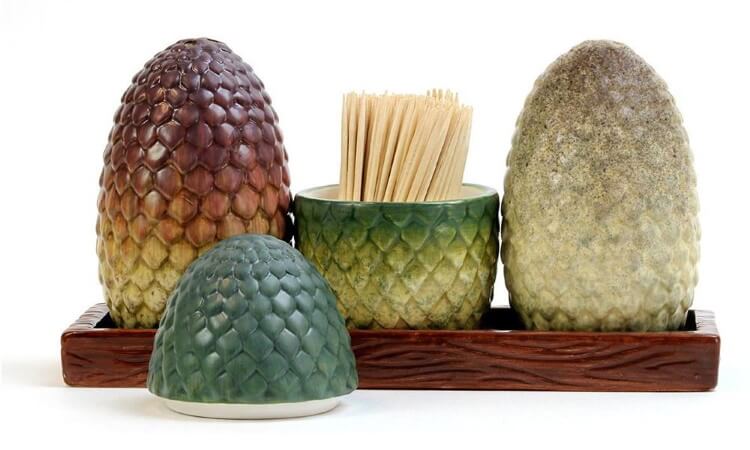 56. Westeros Wall Map
It is easy to get lost in the land of Westeros. Hang this Westeros map on your wall so you can always find your way when roaming in the seven kingdoms.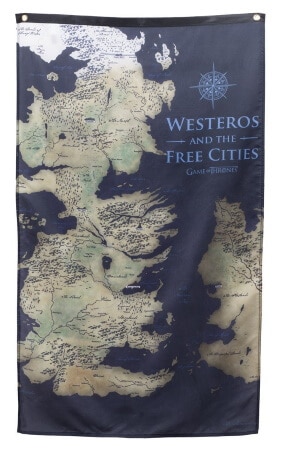 57. Dinner is coming Grill Apron
You probably won't be the king of the north but you can still rule your kitchen. Wear the Game of Thrones grill apron proudly when you prepare the feast (or a sandwich).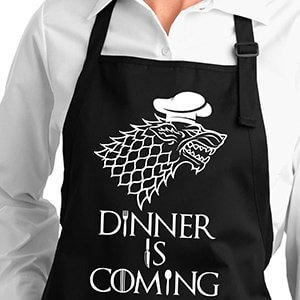 58. House Sigil Shot Glasses
Drinking was always a major part of the way of life in the seven kingdoms of Westeros. Drink with style from shot glass decorated with sigils, mottos and quotes.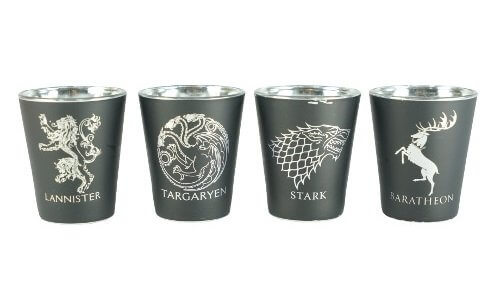 59. Funny T-shirts
The great quotes and situations in the show provided multiple opportunities for funny T-shirts. Like the "Baby is coming" maternity shirt, "Winter is never coming" Texas T-shirt and our favorite, "Tell Cersei it was me" Olenna T-shirt.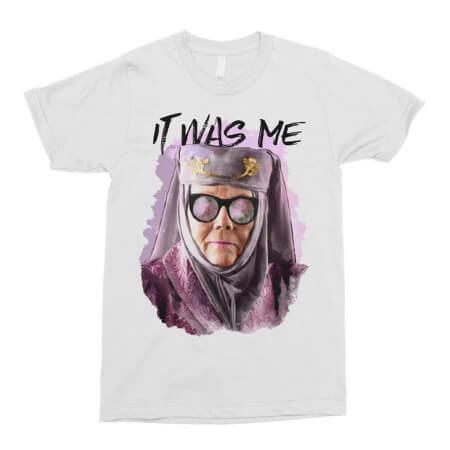 60. Dragonclaw Goblet Replica
Is there anything more dragony than drinking your favorite red wine from a dragonclaw goblet? This one is for the dragons who once ruled this land.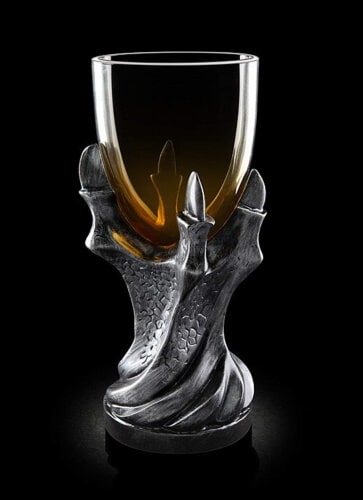 61. Game of Thrones inspired fragrances
While we really doubt the people of Westeros smelled good or even had a sense of common hygiene, this set of fragrances was put together in order to capture the essence of the characters: Melisandre, Lady Sansa, Khaleesi and white wolf (for Jon Snow obviously).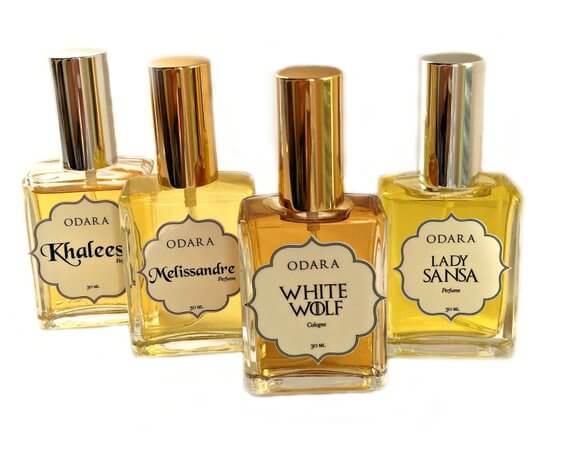 62. Dracarys Lighter
Looking to light some fire? Why not do it as Daenerys does it? All you need is to shout the command Dracarys and to have this lighter.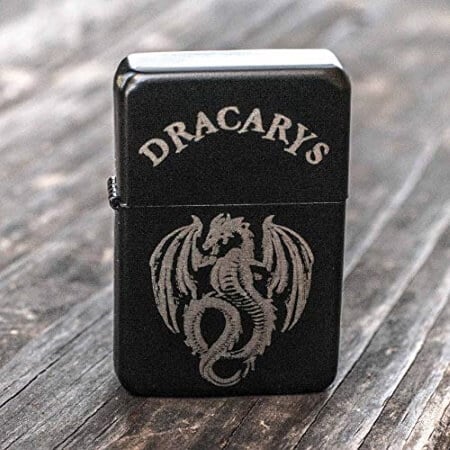 63. Dragon Ear Cuff Wrap Earring
Looks like a baby dragon sits on your ear but it only needs the traditional earring hole. Great for hanging out but even greater as part of Daenerys Halloween costume.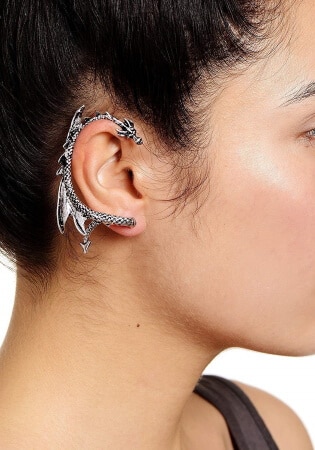 64. Game of Thrones Board Game
This Game of Thrones strategy board game starts with each player has an army, money and other essentials to conquer the seven kingdoms of Westeros.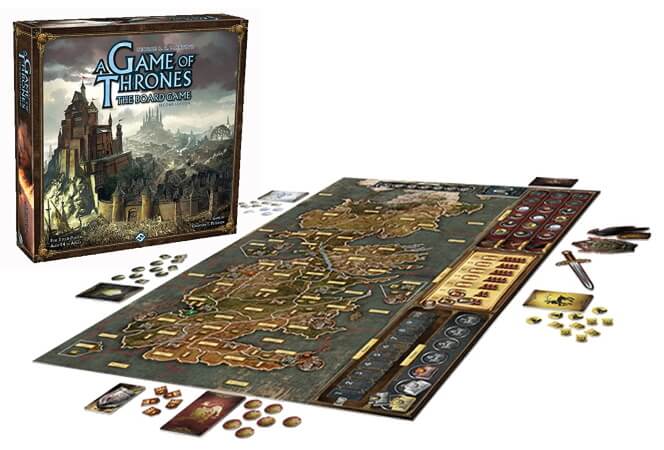 65. Moon of My Life – My Sun and Stars
Those two romantic sentences could have easily come from a chick flick but they are actually the words Khal Drogo and Daenerys Targaryen said to each other in their short time together. This set of bracelets is a great gift between any couple.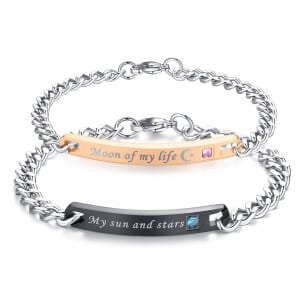 66. House Stark Direwolf Ring
A beautifully designed ring with the house of Stark direwolf sigil. There are ring designs for almost every major house in the seven kingdoms. Select the one that you relate the most and wear it proudly on your finger.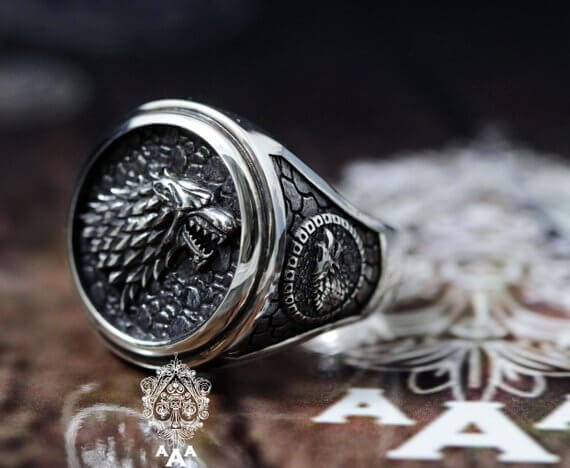 67. House Targaryen Pendant
A striking three headed dragon pendant. Symbolize the house Targaryen sigil. This is a great item to complete a costume or to stand on its own as an everyday jewelry.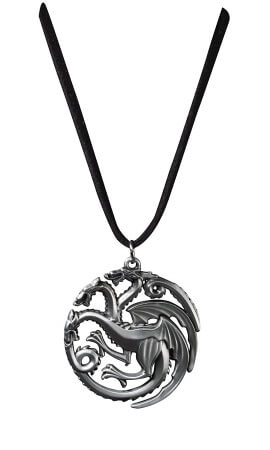 68. House Baratheon Sigil Throw Pillow
Use those throw pillows as a decorative items or bring them into your dreams, the loyalty to the house is stepping up a notch.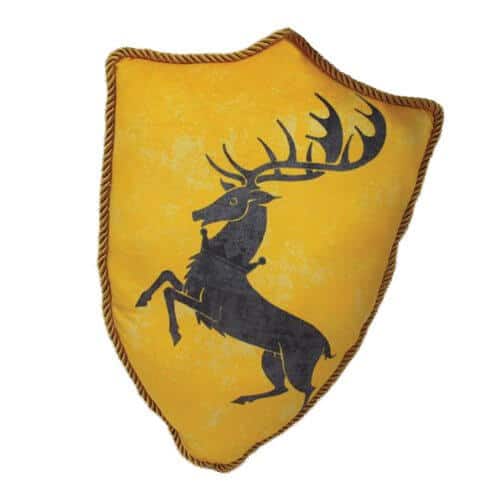 69. Game of Thrones Music Box
A small cardboard Game of Thrones music box with the show's title inscribed on the outside. When you turn the mechanical arm it will play the show opening theme. This is a really cute gift any receiver is guaranteed to appreciate.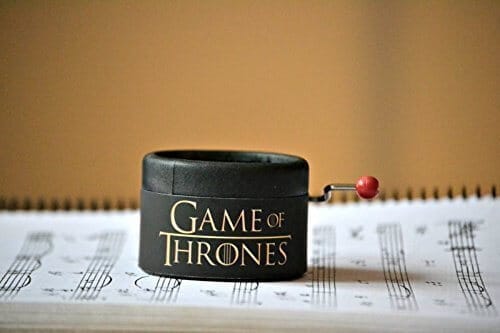 70. Longclaw Letter Opener
This memorabilia is a unique Jon Snow's Longclaw letter opener. Lord Mormont and Jon Snow usually got their mail attached to a raven leg. While you rarely use this method to send mail anymore, you can still open your envelops with some level of importance.

71. Magnetic Bookmark Set
You can still find a way to be close to your favorite book series even when you read other books. This is a set of 4 Game of Thrones magnetic bookmarks that includes colorful, powerful moments from the show.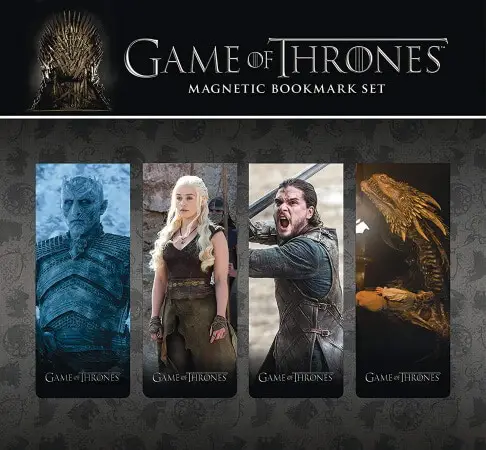 72. Winter Is Coming Direwolf Tote Bag
This natural cotton canvas bag can hold your groceries and show your love for the house of Stark at the same time. A Game of Thrones merchandise that is friendly to the environment and to the king of the north.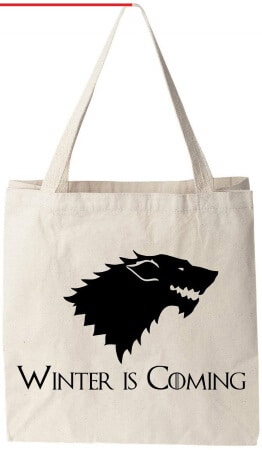 73. Puzzle of Westeros
This Game of Thrones puzzle is not a simple 2D puzzle. It is not even a 3D puzzle. This is a 4D puzzle of the land of Westeros. It includes 1,400 pieces, 65 buildings, 45 flags, 10 house sigils, 5 battle markers and more. The fourth dimension is a poster that represents the history of the land.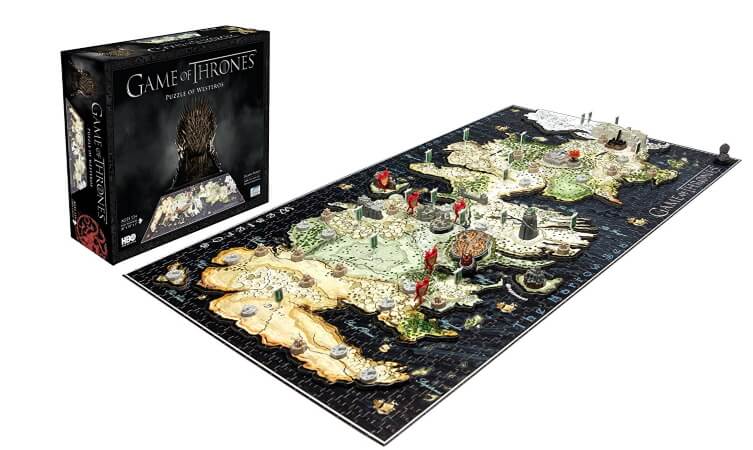 74. Targaryen Purse & Handbags
Showing your support in the house Targaryen has never been more chic. Game of Thrones purse/handbag with the three dragons sigil of house Targaryen. Dracarys!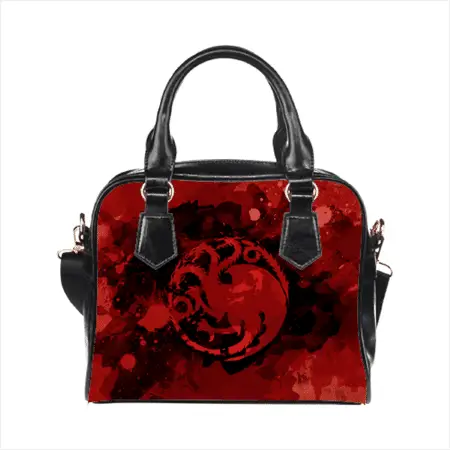 75. Westeros Wall Art
A beautiful, 5 pieces painting, stretched over a canvas. Shows the buildings of King's Landing in the land of Westeros. Available in 3 sizes.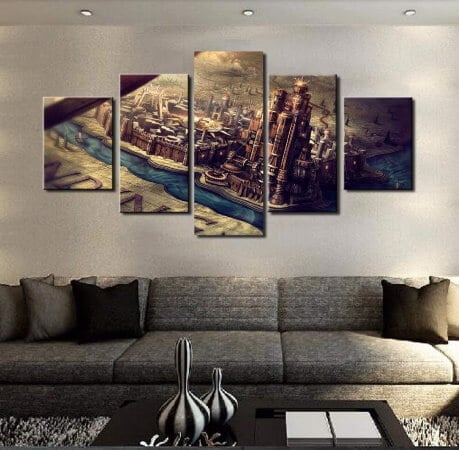 76. GoT Theme Black Vinyl Record Clock
A 12 inch vinyl record that was turned into a wonderful wall clock. 11 sigils are cut into the record amazingly. A beautiful gift for any fan.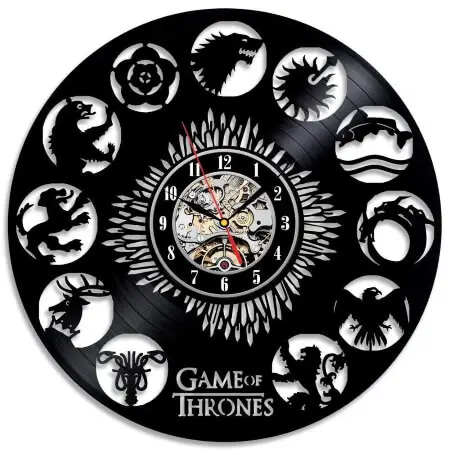 77. Iron Throne & Dragon Eggs Bookends
Fans of the book series know how big and heavy those books are. Using a regular bookend is just lame. The iron throne and the dragon eggs are our favorite options for bookends.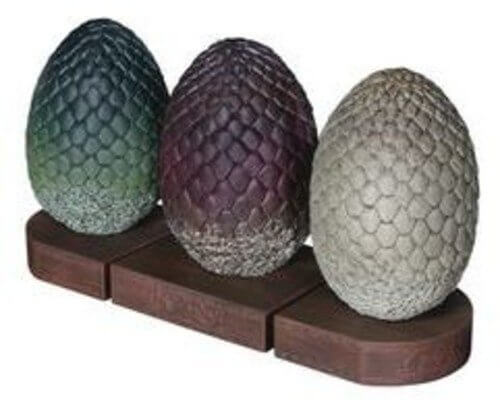 78. Game of Thrones Disc Ornament
A set of 4 officially license merchandise Game of Thrones ornaments. Includes: "Ours is the fury" for house Baratheon, "Hear me roar" for house Lannister, house Targaryen's "Fire and blood" and of course "Winter is coming" for house Stark. A perfect gift for fans and collectors.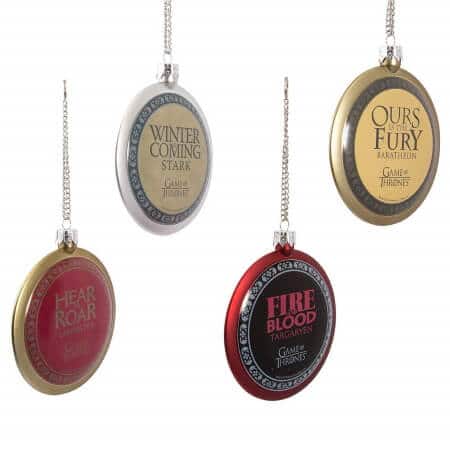 79. Night King Shower Curtain
Here is another angle of Game of Thrones merchandise you probably didn't expect, the Night King shower curtain with his newly acquired ice spitting dragon. The night king and the dragon don't look anything like in the show but it is clear they weren't meant to be and it is pretty cool.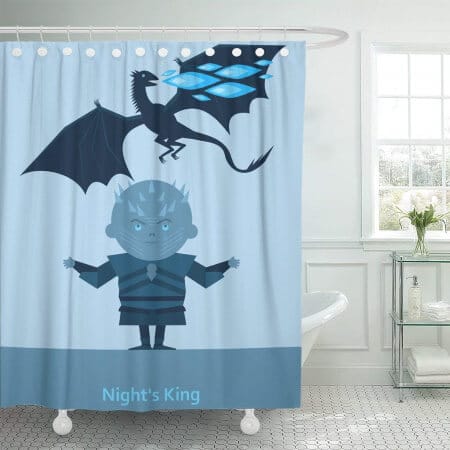 80. Direwolf Plush
Ghost is definitely the kind of animal everyone would want as a pet. He is loyal, strong, fearless and fierce. But, he is also not real. So for now you can settle for a soft and cuddly direwolf plush version of Ghost.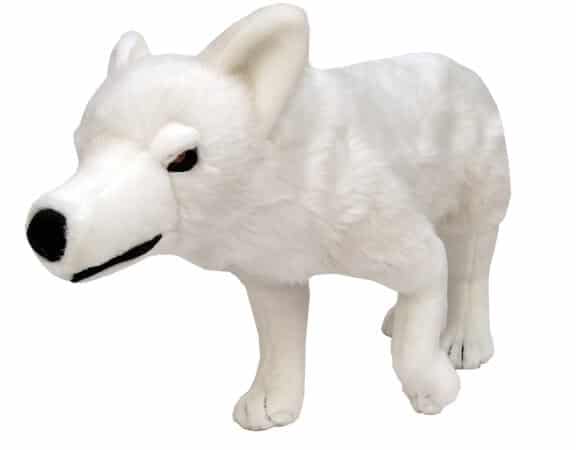 81. Direwolf Wireless Charger
Here is a merchandise item we are sure George R. R. Martin didn't expect and it couldn't be more far away than the fantasy land of Westeros. A unique bamboo charger with the Stark house sigil direwolf engraved into the wood.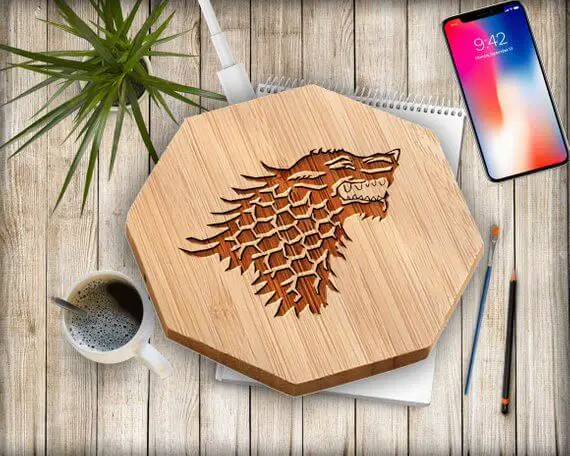 82. Iron Throne Room Construction Set
The McFarlane construction set is available in several different variations. You can choose to build Stark Banner, the Lannister Banner or this highly detailed iron throne room. This set comes with Joffrey Baratheon as the king on the iron throne.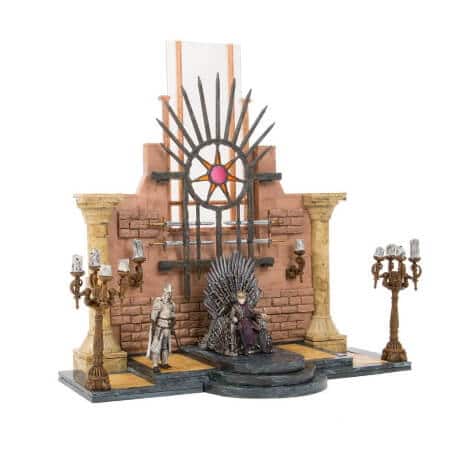 83. GoT Clue Board Game
This is a GoT adaptation to the classic Clue game. Double sided game board allows you to try and find who is responsible for the murder in either the red keep or the streets of Meereen. There are 6 different suspects in each option. Don't forget, you can always demand a trial by combat.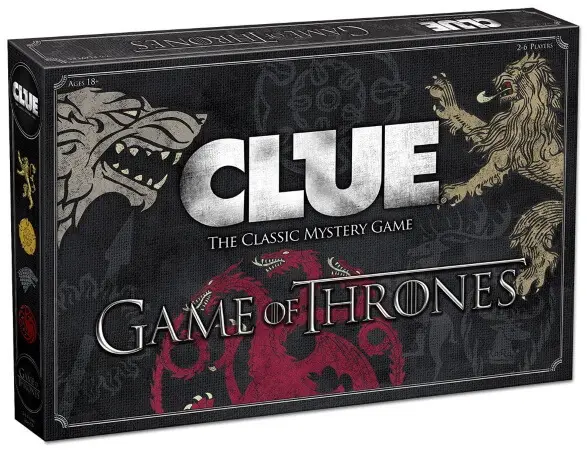 84. Hand of the King Wax Seal Kit
If you have any interest in sealing your letters with wax, this is the kit for you. Write your message, light the candle and press. It will have the image of the hand of the king on the wax and you can tell if your message was written or not.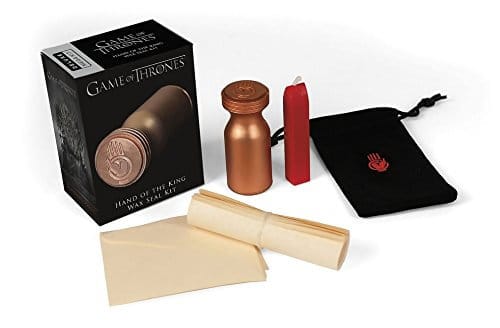 85. Game of Thrones Soundtrack
This could easily become top Game of Thrones merchandise. You can find Game of Thrones soundtrack from each season available in many different media format including vinyl for the audiophiles that roam among us.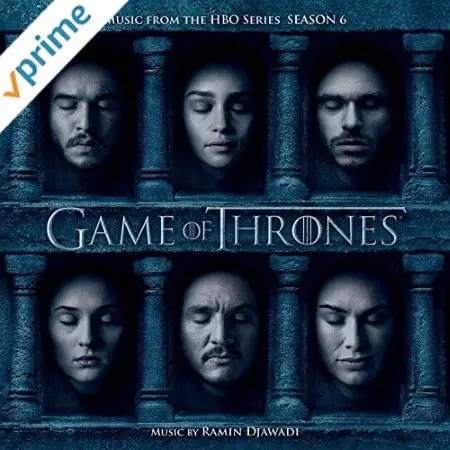 86. GoT Knitting Yarn Bowl
This is a surprising gift for anyone who loves the show and also loves knitting (there should be at least a couple…). Ceramic bowl to place your yarn in that comes with the saying "Winter is coming, knit faster".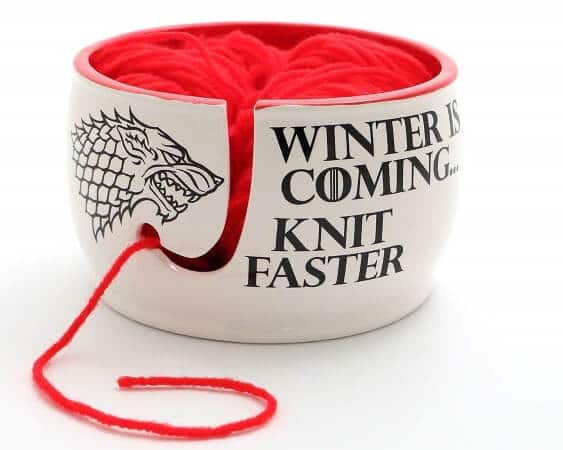 87. House Sigil Plastic Cookie Cutters Set
This cookie cutters set is Officially-licensed HBO's Game of Thrones merchandise. It includes house sigils of Baratheon, Greyjoy, Lannister, Stark, Targaryen, and Tyrell. No more gingerbread man shaped cookies.

88. 3D Dragon Wall Decals
Those 3D dragons are a fantasy spin to your home wall décor. You can get as many as you want and decorate your home like a real mother (or father) of dragons.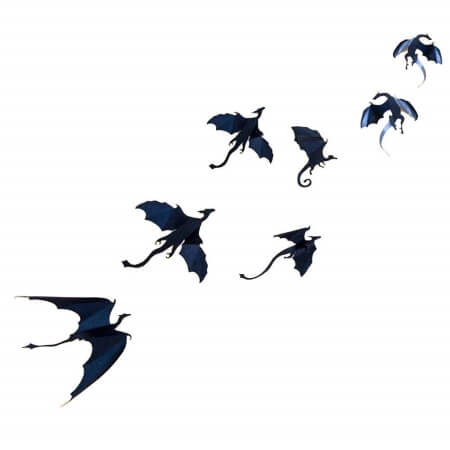 89. GoT Inspired Christmas Ornaments
Christmas is the perfect time for GoT theme stuff. Decorate your Christmas tree with Game of Thrones Christmas ornaments that have saying like "Christmas is coming", "Let is Snow" (with a picture of Jon Snow), "Ho, Ho, Hodor" or other kind of ornament that has figures from the show.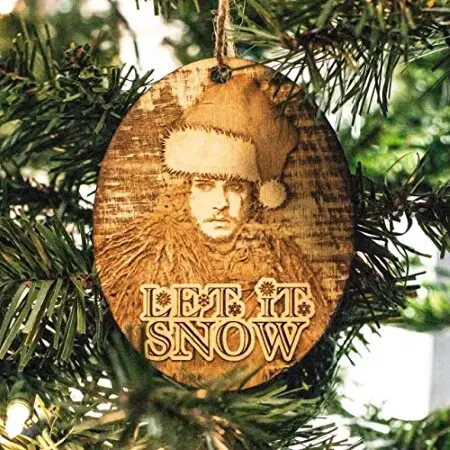 90. Hand of the King Card Game
In this fast-paced card game you will need to outwit your opponents and in some cases, even backstab them, in order to win the hand of the king.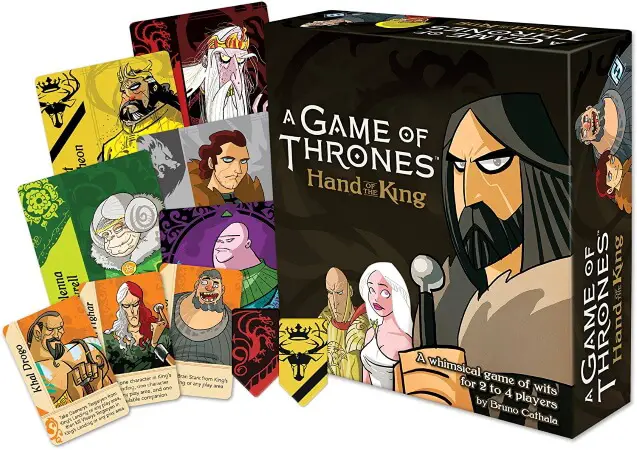 91. Night's Watch Oath Wall Banner
This is an officially licensed night's watch banner. It includes the nights watch oath as we see the crows recite many times in the show. "Night gathers and now my watch begins…".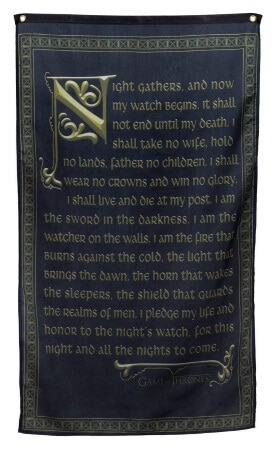 92. Stark Direwolf Decal
Support the Stark fight with a high quality vinyl decal. The decal is available in many different sizes and colors to fit your car, motorcycle, laptop, mirrors and more.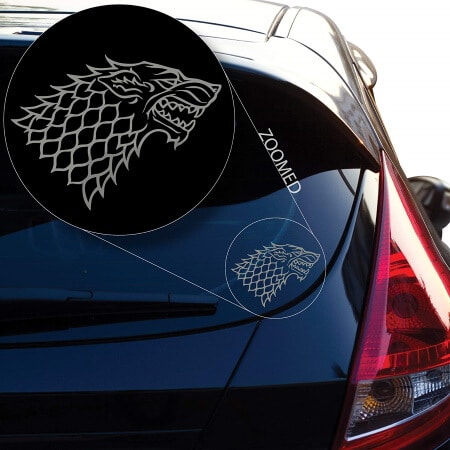 93. The Science of Game of Thrones
If Hodor would go to a phycologist, how would he be diagnosed? Is it possible to create a wildfire? This book is attempting to question the events of the show and try to find real-world explanations.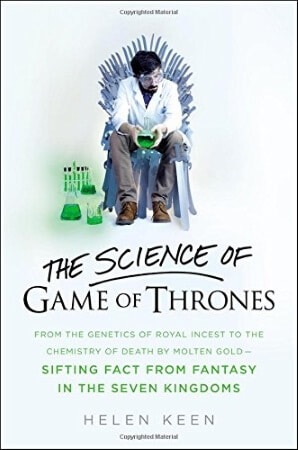 94. Night's King Full Head Mask
This is a full head mask of the Night's King. It was sculpted by a professional special effects creator. The mask has the iconic blue eyes but also has eye holes that were strategically placed so the wearer can see. This is not a child toy, it is made with HIGH attention to details.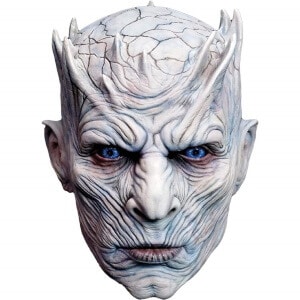 95. Dothraki Language Handbook
Forget about learning Spanish or French. Dothraki is the way to do. Dothraki Language Handbook is 128 pages language guide plus a one hour audio cd that include hundreds of words and phrases and explanations. With this book you can understand everything is said in Dothraki on the show and more.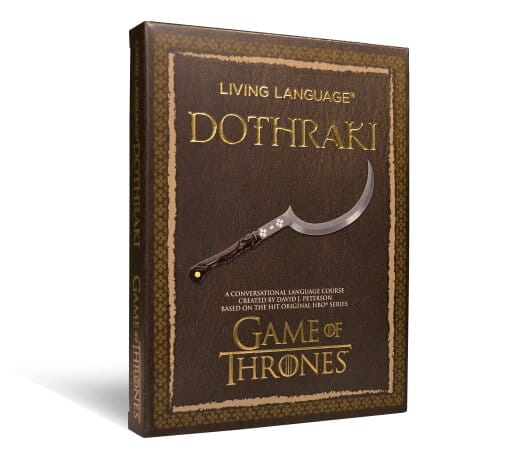 96. The Comprehensive Collection of Things that Jon Snow Knows
This notebook includes all the things that Jon Snow knows. It is very useful for understanding the different subtexts and politics not just of the show, but of life in general. If you want an example to what is included there, just remember what Ygritte told him…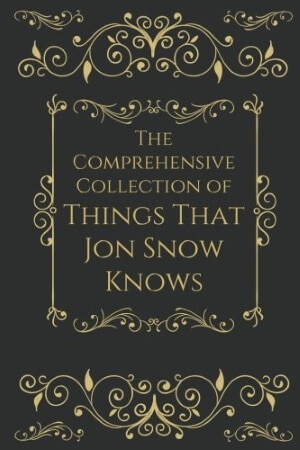 97. Game of Thrones Makeup Brushes
This is one of the best Game of Thrones gifts for women. It includes a complete set of 8 makeup brushes. The handles are made from a metallic alloy in shapes from the show like house sigils and hand of the king. Each one of the brushes can even be detached so the handle becomes a unique hairpin.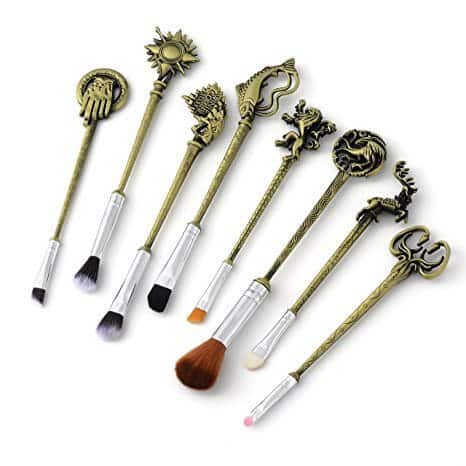 98. Van Gogh-ish King's Landing
This is an art print of King's Landing that was created to look like Van Gogh's Starry Night. Get this unique interbreed between a famous classic oil painting and the fantasy world from a TV show.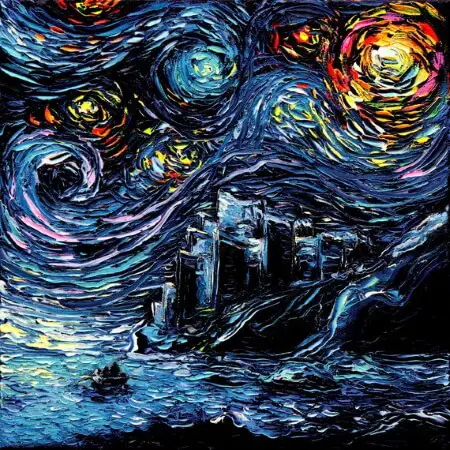 99. Funny Game of Thrones Birthday Card
Those Game of Thrones birthday cards are a great add-on to the birthday gift. With hilarious sayings like: "the north remembers your birthday", "the Lannisters send their regards", "Cake is coming" and the classic Jon Snow's "I may know nothing, but I know it's your birthday".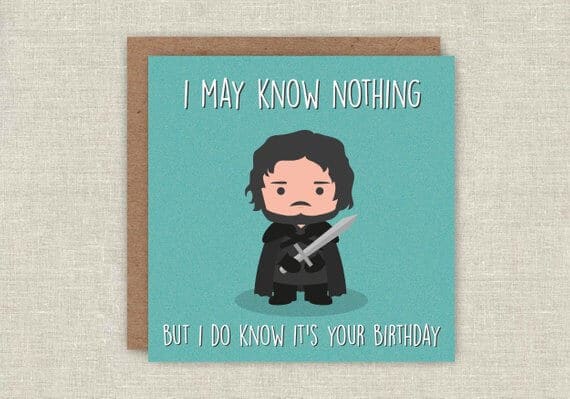 100.         Tyrion Lannister Life-Size Cardboard
We decided to end the list with something surprising. Yep, exactly how it sounds like. This is cardboard, cut to the size of the actual actor, Peter Dinklage. Shaped holding a crossbow exactly like in that one famous scene. The image is made from a high quality picture and it is great attention center for parties.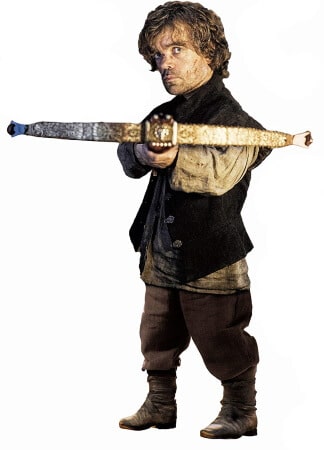 That's it, 100 different Game of Thrones merchandise items. When we started putting this list together we knew that there are a lot of items, but we didn't think it will be that easy to create a list of 100 different memorabilia items. It would have been easy to 10 different hats, 10 different shirts, etc. But we decided to get to as many different items as possible. All of the items on this list are available to buy online.
Which one is your favorite? You have a good one that is not on this list? We will appreciate any comment. Contact us.