If you are looking at your Game of Thrones calendar and see Halloween is near, you should prepare yourself with a Game of Thrones costume. And if you are looking for a Cersei Lannister costume for Halloween, you probably know that she is one of the more controversial characters in Westeros. While some characters, like Jaime Lannister or Theon Greyjoy, who traveled between good actions and bad ones, it was very easy to know which one was Cersei. Throughout the eight seasons she has being manipulating, deceiving, conspiring and basically did all she could do in order to gain more power to her family and more important, to herself. And let's face it, the fact she was sleeping with her twin brother and had three children with him, didn't much help. 
On the other hand, dressing up as Cersei for Halloween is not a difficult at all. The first thing you should do is set yourself up with a Cersei Lannister dress, the right wig for the dress and some accessories like the crown or a pendent. Follow this page to build your preferable Cersei Lannister Halloween costume.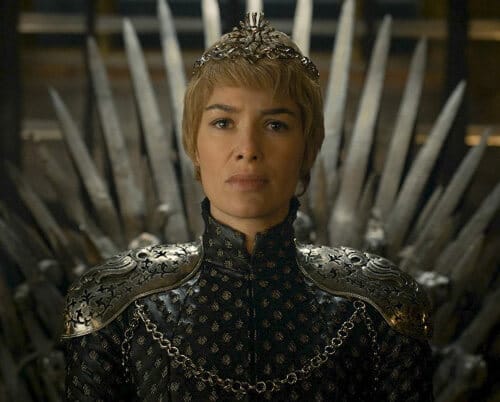 Queen Cersei outfits in the later seasons, mainly seven and eight, are a lot different than what she wore in the beginning of the show. The change of wardrobe included also a (forced) change in hair style. This was done by the famous hair stylist also know as High Sparrow. This transformation began when she was forced to take the walk of shame and completed when her last living son, Tommen, jumped from his room window. 
If in the beginning of the show, Cersei's outfits were flashy and meant to show her as a spoiled young women. When she made herself queen, her clothes were those that fit a queen. 
There is no shortage of Queen Cersei costume options and it is also very easy to find the earlier seasons' Cersei Lannister costumes.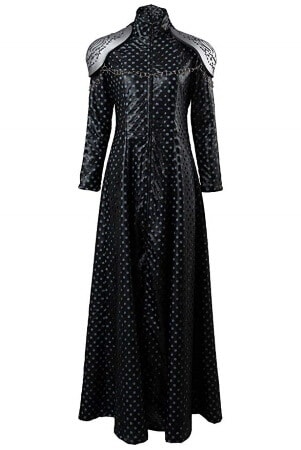 This is a high quality Queen Cersei costume. We first see Queen Cersei wears that outfit in episode 10 of season 6, where she first made herself the queen of the seven kingdoms.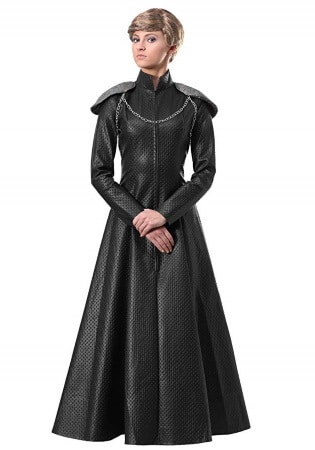 This is another version of Queen Cersei costume. It is much cheaper than the previous one but the difference in quality is also well noticeable.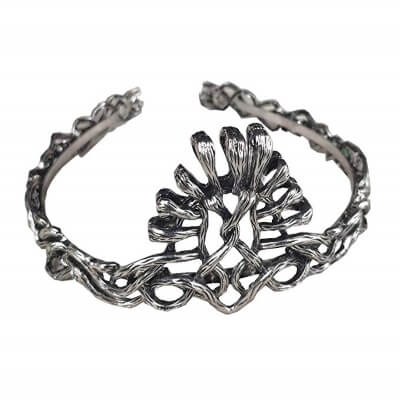 A replica of the crown worn by Cersei during the last two seasons of Game of Thrones. A very good way to complete your Game of Thrones costume.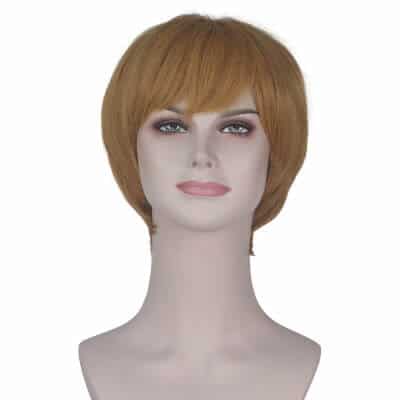 In the first seasons of Game of Thrones Cersei Lannister had a very long golden-brown hair. After her "little run-in" with the High Sparrow and Septa Unella, her hair was shorter, similar to this wig.
This red dress has many features to symbolize strength and power, as expected from a queen. While this Cersei dress has some resemblance to the Cresei red dress she wore earlier in the show, this one is much more impressive. This costume comes with the complete outfit, the red dress, the chains and pendant and the shoulders armor.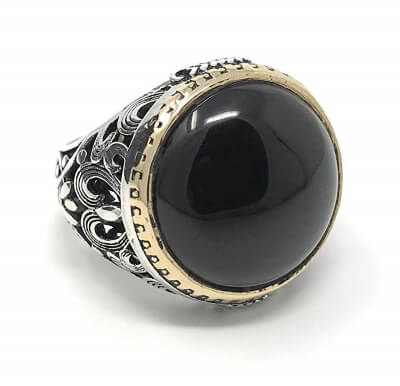 While this is not the actual replica of the Cersei black ring, it will work just fine and even more than that to complete your Halloween Cersei costume.
This is the two tone black dress we see Cersei wears when Jon and Daenerys bring the captured White Walker to the Dragon Pit. While it is very conservative, it also projects silent strength. It could be very useful as a Cersei Halloween costume for the east coast where it tends to get quite chilly during late October nights. This black dress comes with three pieces. The bottom grey layer, the black layer and the lion pendant. 
Another Cersei black dress option. This one is even more simple than the previous one as it is all made from one fabric except for the faux fur shoulders top. Given that this dress has less distinctive features to it compare to the other Cersei outfits we show here, it might be overlook by people who are not hard code Game of Thrones fans. Something to keep in mind.
The famous Cersei Lannister red dress. Very flashy with her gold decorations and belt. It is also very different than the previous Cersei dresses in this page. This dress with the long golden-brown hair and Lannister lion pendant are a guaranteed to be a successful Cersei Lannister costume.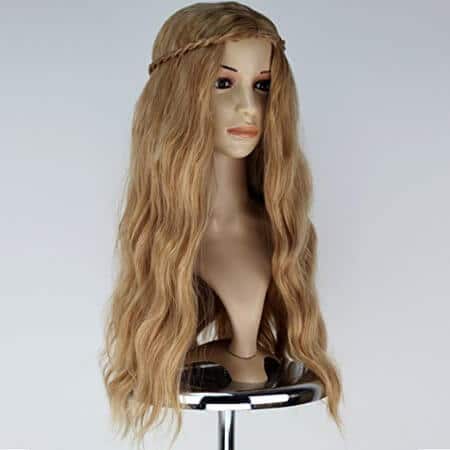 This is how Cersei's hair looked like in the beginning of Game of Thrones. Long, golden-brown hair.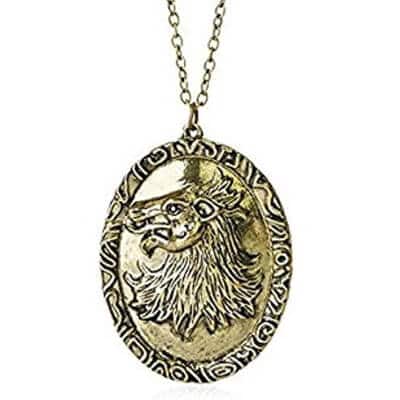 You can see Cersei wears this Lannister's lion pendant a lot on the show and even in the picture above. This is a quick and easy way to complete your Cersei outfit together with the Cersei dress and wig.